How to test drive a car
Test driving a car is a simple process that you can do at a dealership or with a private seller. At a dealership, you can schedule an appointment or ask for a test drive when browsing the lot or showroom. It's important to bring your driver's license with you — the dealer will make a copy of it before your test drive. It's recommended to test drive a car before buying it so you can see how it drives. You can also make the most of your test drive by knowing what to look for during your ride.
3 min to read
Tips for test driving a car
You can learn a lot about a car online or at a dealership, but you need to get behind the wheel to truly understand how a car operates. Test driving a car is an integral part of the buying process, so here are some tips to follow before taking a car for a test drive:
Ask to choose the route: Many dealerships have a route they ask customers to follow, but it may be too limited to make an educated buying decision. Ask if you can choose the route to get a feel for the car in different situations, and try to include a variety of road surfaces like flat stretches, hills, side streets, and highway driving.
Test drive more than one vehicle: It isn't easy to evaluate a car if you don't have anything to compare it to. Test drive more than one vehicle to get a feel for multiple options.
Do your test drives on the same day: Do your test driving in one day so it's easier to compare different vehicles.
Don't rush your decision: You don't have to buy a car the same day you test drive it. Give yourself time to think about your decision to make sure it's the best choice for you.
What to look for when test driving a car
Look for damage: Before you get behind the wheel, check the car for scratches, dents, and nicks. Even new vehicles can have some cosmetic imperfections from their time on the lot.
Test the acceleration and the brakes: Test the acceleration of the car by driving it on the highway, if possible. You can test the brakes by driving it in city traffic. These tests will also help you see how smoothly the car changes speeds and shifts gears.
Check the steering: Change lanes and turn left and right at least once to get a feel for the steering.
Familiarize yourself with the technology: The technology used in cars today has changed significantly in the last decade. Ensure the vehicle has the features you want, including Bluetooth, a navigation system, and a backup camera. Check the steering wheel controls, heating, air conditioning, radio, and other vehicle features as well.
Conduct a soundcheck: When you're on the road, pay attention to the engine, road noise, and wind sound inside the car.
Check your vision: Check the vehicle's sightlines, blind spots, and backup camera to ensure adequate visibility when you're on the road.
Assess your comfort and storage space: See how easy it is to get in and out of the car and check for legroom and headroom throughout the vehicle. Check to see if you can reach the pedals comfortably, and make sure there's enough cargo space.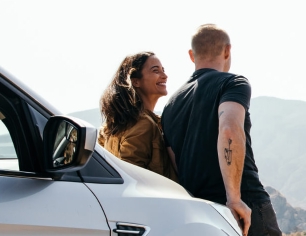 Quote car insurance online or give us a call