New car insurance
Wondering how to insure your new car? The truth is your current insurance policy will cover your new car the second you drive it off the lot — typically at the same level of coverage as your old car. But if you don't carry liability or physical damage protection, you may end up stuck at the dealership, or worse, in violation of the law.
6 min to read
How much is insurance for a new car?
Usually, getting a new car will increase your rate because it'll be worth more than your old car. Note that other factors may impact your car insurance rate if you're starting a brand-new auto insurance policy. But even if your rate increases, you may be eligible for a few car insurance discounts.
But the exact difference in cost will vary greatly based on the following factors:
Model year
Title and damage history
Amount of coverage purchased
Insurance requirements for a new car
Financed vehicle
Required coverages: Comprehensive car insurance and auto collision coverage are usually mandated by the financer. Your state will also require some minimum amount of liability coverage to pay for any injuries or damages you cause if you're at fault in an accident.
Other coverage options: You may also want loan/lease payoff coverage, which Progressive offers. Loan/lease payoff coverage can help pay the difference between what you owe on the vehicle and the actual value of your car if it's totaled or stolen, up to 25% of the actual cash value, though that limit may vary by state. You may need to provide the lienholder's name and address within two to three days of purchasing the policy or adding the new car to your existing policy. Note that a similar coverage, gap insurance, may also be available from the dealership or other insurers.
Leased vehicle
Required coverages: Comprehensive and collision coverages are usually required by the leasing company, and they may not allow you to choose a deductible over $1,000. You'll likely also need a higher liability coverage amount, typically at $100,000 per person and $300,000 per accident.
Other coverage options: Consider loan/lease payoff coverage in case you total your car (or it's stolen) before your lease ends. Some lease agreements may already include gap insurance from the dealership, so check before you add loan/lease payoff to your auto policy.
Owned vehicle (no lender or lienholder)
Required coverages: You only need what your state requires — typically a minimal amount of liability coverage. Learn about car insurance requirements by state.
Other coverage options: Consider adding comprehensive and collision on your paid-off vehicle. If you don't have physical damage coverage and your new car is stolen, vandalized, or damaged in an accident that was your fault, you won't get any money from your insurer.
For your convenience, we're available to immediately add your new car to your existing policy or get you started if you're a new customer.
How to switch car insurance to a new car
You don't have to transfer your insurance to your new car right off the bat. Since most insurers offer a grace period for updating your policy with your new vehicle, your dealer will typically just need proof of insurance before they throw you the keys. Even if you don't have auto insurance, you can start a policy before buying your car if you know the vehicle identification number.
How long do I have to insure my new car?
When buying a new car, your insurance carrier will provide a grace period between 7 to 30 days to update your policy with your new ride. For example, Progressive allows 30 days, which means if you have a claim within that period, your new car is still covered in the same way your previous vehicle was.
Which new cars are the least expensive to insure?
Vehicles with the cheapest car insurance rates are typically those with fewer and less costly claims. In the insurance world, claims are commonly known as losses, and the number of losses a particular make and model has may impact how much it costs to insure.
Tips for buying insurance for a new car
Know your VIN: Having your vehicle identification number will help speed up the quoting process, and you won't be able to purchase a policy without it.
Tell your insurer what you use it for: You may need additional coverage if you use your car for ridesharing or business errands.
Add regular drivers: If family members will be driving your new car regularly, make sure to list them on your policy.
How to switch insurance to your new car
New Progressive customers
If you're currently insured with another insurance company, you can simply start a new policy with your new car. Get a car insurance quote online or call us at 1-866-749-7436.
Current Progressive customers
You won't need to start a new policy. You can transfer your insurance to your new car, even while you're at the dealership, by logging into your policy or calling 1-866-749-7436.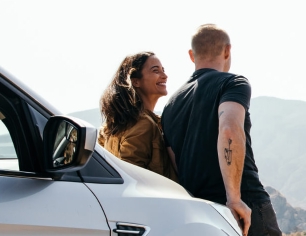 Quote car insurance online or give us a call