Buying a car from a private seller
Buying a car from a private party is different than buying from a dealership, but the basic steps are the same. You should first research the vehicle models that meet your needs and fit your budget, then search through local listings for the car you want. Once you find it, you can contact the seller and set up a test drive and inspection. You might have the vehicle inspected for mechanical issues or hidden damage with a private seller. You also won't have the option to purchase warranties or other extras.
5 min to read
How to buy a car from a private seller
1. Research and preparation before buying a car from a private party
Before looking at potential vehicles and buying a car from a private seller, a few things can make the process easier such as, nailing down your budget, making a list of must have features and finding state requirements for used cars.
When you buy a car from a private party, your best bet may be to pay for the vehicle yourself. You may be able to get a car loan for a private party sale, but it can be complicated. Also, the terms for private sale auto loans are typically less favorable. In either case, you'll need to figure out how much money you can put down on the car now and how much you're willing and able to borrow. That should give you an idea of your budget for your purchase.
A list will help you target your search or lead your search to cars you may not have discovered. Some states require you to have insurance for the car before buying. In contrast, others allow you to purchase and register a vehicle before obtaining an insurance policy. You might make a list of documents you'll need and keep it handy. Learn more about car insurance requirements by state.
2. Finding the right car
Once you've done your prep work, start looking at cars in your area with your list of "must-haves" research each car's value, schedule a test drive, inspect the car and verify the car works.
Compare the value of each vehicle on your list to its market value from third parties like Kelley Blue Book. Get estimated values both for the condition as the seller describes it and at least one condition below, e.g., if a seller's description indicates "excellent" condition, get the value for excellent and very good conditions.
Ideally, you would do your test drives in a public place during daylight hours, on a day with good weather. Clear skies and bright sunlight will show imperfections and damage better than streetlamps or poor lighting conditions. It's good to let someone know when and where you will be performing the test drive. Learn how to test drive a car.
Inspecting the car includes conducting a physical inspection and test drive and speaking with the current owner. Try to get information about the car's history — ask about any accidents the car's been in and how many owners it's had. Get the car's vehicle identification number (VIN).
Before buying a used car from a private party, have a trusted mechanic check that the vehicle is in good working order. The mechanic may help you estimate the cost of any needed repairs. Use the VIN to get a vehicle history report and make sure it matches what the owner told you. If the owner doesn't want to give you the VIN, walk away from the sale. Learn more about what to look for when buying a used car.
3. Negotiating the price
Once you find a car you like, you'll need to settle on a final price. Many people find negotiating stressful, but the following tips can help smooth the process and get you the best deal.
Know the car's actual value: Print out the values you found in the last phase and bring them with you. Proof of the car's value can back up your offer if the current owner insists on an unrealistic sum.
Bring your mechanic's repair estimates: If the car needs critical repairs immediately or soon, try to get the seller to deduct the repair cost from the car's sale price.
Find out about the seller's circumstances: When speaking with the seller, try to learn about why they're getting rid of the car. For instance, they're under pressure to sell the vehicle quickly if they're moving away. In that case, they may be willing to accept a lower price.
Ask about original equipment: Find out if the current owner has the original manual, spare keys, and any other equipment the car would have had when it was new. If anything is missing, it can justify reducing the price, even if the missing equipment isn't essential to you.
4. Completing the sale
Once you've settled on the price, you'll need to complete the sale.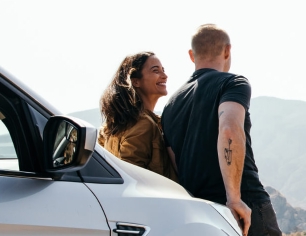 Quote car insurance online or give us a call