Changing names on car registration: How does it work?
Changing the name of a vehicle's registered owner usually requires submitting a form and supporting documents to your state's department of motor vehicles. Changing a name on the registration may also require updating the vehicle's title document, which signifies legal ownership of the vehicle.
3 min to read
How to get your name on a vehicle registration
The first step in getting your name on the vehicle registration is ensuring that your name is listed on the vehicle's title. Then, you'll generally need to provide the following documents to your state's department of motor vehicles:
If you just bought the vehicle, then you may also need proof of tax payment and the bill of sale. Some states or local governments may also require a safety inspection or emissions test prior to registration. Learn about the types of car titles.
Can someone else register my car in their name?
In general, registering a car that's not in your name isn't allowed as most states require you to show proof of ownership as part of their registration process. However, some states may allow you to register a vehicle that you don't own if you have the owner's approval. Check your state's rules regarding vehicle registration.
How many names can be on a car registration?
Typically, a state will allow at least two entities listed on vehicle registration. Some states will combine married couples into one entry, leaving room for a lienholder, such as a bank or a financer, to hold the first spot on the registration and the married purchasers of the vehicle to hold the second spot.
If I change my name, can I change my vehicle registration?
Yes. Before changing your name on your vehicle registration, you must have proof of the name change. For example, changing your name on a car registration after marriage will require proof of your name change through the Social Security Administration. Once you have the name change documentation, you can change your vehicle registration through your state's department of motor vehicles. You might also need to change your name on the car title.
How to remove a name from car registration
To remove a name from a vehicle's registration, you may need to remove it from the vehicle's title first. You'll then submit a new registration form to your state's department of motor vehicles that designates you as the registered owner of the vehicle. This process may require submitting the same supporting documents you did when you initially registered the vehicle. Check your state's registration rules before and learn more about car insurance requirements by state.
How can I get my bank off my registration?
Once you've fully paid off any loans on the vehicle, your financer will sign over their ownership stake in the vehicle via the title, allowing you to update your vehicle registration. Learn more about how long it takes to get a car title after paying off a loan.
Is there a fee to change the name on my vehicle registration?
Most states have a change fee associated with changing the name on a vehicle registration. Some states have special circumstances that waive the fee, generally only if the registration switch is because of a name change by the person already on the registration and not a change in vehicle ownership.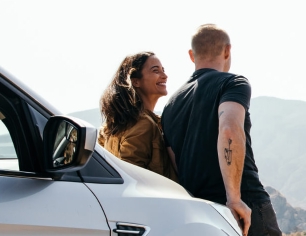 Quote car insurance online or give us a call