Shopping for car insurance
Shopping for auto insurance can help you save, but it can feel daunting — especially if it's been years since you last looked for a better rate. However, all you need to shop for car insurance is a little info, an idea of what coverages you need, and a few spare minutes to compare quotes.
2 min to read
How to shop for car insurance
The best way to shop around for car insurance is to find out your coverage and premium options from different companies. Follow these steps to start shopping:
As you shop for auto insurance, keep in mind that cheaper car insurance isn't always the best choice. Rather, the best policy is the one that satisfies all your needs for the best rate.
To get started, compare car insurance quotes from different companies. You'll get a quote from Progressive, and then you can choose to compare it with rates from other insurers.
How to shop around for car insurance
The best way to shop for car insurance is to compare our car insurance rate with quotes from different companies to see different costs and coverage options. Pay attention to these four aspects, especially if you're looking for the cheapest car insurance:
Pro tip:
Progressive gives discounts for drivers listed on your policy who are 18 years old or younger,* as well as students with a B average or better.†
What do you need to quote and buy car insurance?
Before you start shopping for auto insurance, you'll need a few pieces of info to get an accurate quote, including:
Your car's make, model, and year: At a minimum, you'll need your car's make and model, its year, and your address to get an accurate quote.
Your driving history: Providing an honest account of tickets or accidents you've been in will increase the accuracy of your quote. Remember, lying to get a better rate is considered car insurance fraud.
Your car's mileage: Some insurers will ask for this to get a rough estimate of how much you drive.
To purchase a policy, you'll typically need to provide one or more of the following for verification purposes: driver's license number, Social Security number, and vehicle identification number (VIN).
With the above info in hand, you can start shopping for car insurance online, over the phone, or through an agent. Quoting car insurance online is a quick way to compare rates yourself, though an agent can save you time if you prefer someone else to do the shopping for you. Keep in mind that prices can vary based on how you buy.
How to compare auto insurance discounts
In addition to a teen driver discount, if you're a new customer shopping for auto insurance, see if you can earn additional discounts like:
Multi-policy: This discount can help you save if you plan to buy two or more policies from the same insurer.
Multi-car: Adding two or more vehicles to your policy could also save you more.
Continuous insurance: Many insurance companies offer a discount if you've previously had insurance through another company.
Usage-based insurance: Some insurers offer an additional discount that's based on how safely you drive while participating in their usage-based insurance program, like Progressive's Snapshot® program.
How to get car insurance
You can buy a policy from Progressive any way you'd like, online or over the phone (prices can vary depending on how you buy). Start shopping for a better car insurance rate:
Go online
We ask easy questions, and you customize your coverages.
Get a car insurance quote
Call a rep
Talk with a licensed representative who can guide you through the process.
Call 1-866-749-7436
Through an agent
Connect with an independent agent in your area.
Find an agent online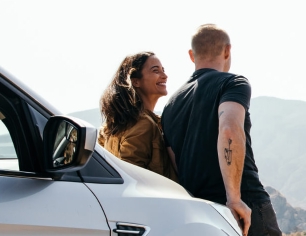 Quote car insurance online or give us a call