Car insurance for teens
Getting car insurance for a young driver can be pricey due to their lack of driving experience, so a separate policy may not be the best option. In most cases, it's more affordable to add your licensed or permitted teenage driver to your existing auto insurance policy. Your policy's coverages and limits will extend to your teen driver, and some insurers, including Progressive, offer discounts to help offset the cost of insuring a new driver.
5 min to read
Do I have to add my teenage driver to my insurance?
A teenage driver must have car insurance in almost every state, so they can either be added to your policy or insured with a separate policy. Buying a standalone policy for a teenager can be expensive due to their lack of driving experience and a higher likelihood of accidents, so it's usually more affordable to add a young driver to your existing policy. By adding them to your policy, they benefit from the savings and rate you've earned as a longtime driver with (in most states) an established credit history. Here are a few more reasons why it's usually best to add a young adult driver to your car insurance policy:
Control

Since you already own the policy, you can easily add and update coverages to make sure your teen driver has the right protection.

Flexibility

If your household has multiple vehicles, your teenager will be insured to drive all of them.

Convenience

You'll only have to manage one policy.
Pro tip:
A separate policy is rarely the cheaper option for a young driver, but there may be a few exceptions. For example, if you drive a luxury vehicle or an expensive sports car and your teen isn't going to drive it, it may be cheaper for them to have a separate policy. Talk to your insurer to fully weigh your options. You should still add your teenager to your policy since they live in your household. However, if the teen has a separate policy and will not drive any of the vehicles on your policy, then he or she may be eligible to be excluded from coverage on your policy.
If I add a teen to my car insurance, how does coverage work?
If you add your teen driver to your car insurance policy, they'll benefit from the same protection that you do. All covered drivers have access to all cars listed on the policy, and the liability limits are the same for all drivers on the policy. Since teen drivers pose a greater risk of accidents, you may want to increase your liability limits on the policy, especially if your current limits aren't covering your entire net worth. Learn more about liability coverage.
All extra coverages on the policy will also apply to your teen, including roadside assistance, loan/lease payoff, rental car reimbursement, and disappearing deductibles.
How much is car insurance for teens?
A separate car insurance policy for teen drivers can be expensive because they have a greater tendency to drive distracted, speed, tailgate, and not wear a seatbelt. The average cost of teen car insurance, however, will vary based on the exact age of the driver, their ZIP code, driving history, and vehicle type. You can find cheap car insurance that covers the essentials and fits your budget. Discover the factors that impact car insurance rates.
Example:A car insurance policy for a 16-year-old driver who just received their license will likely be more expensive than a policy for an 18-year-old with more driving experience. As teens get older, their rates can go down due to the added driving experience, especially if they have a clean driving record over time. At age 25, rates tend to go down even more dramatically.
Age
Rate & change
17 and under

Rate & change

$206
18

Rate & change

$230 (+12%)
19-20

Rate & change

$203 (-12%)
21-22

Rate & change

$176 (-13%)
23-24

Rate & change

$153 (-13%)
25-29

Rate & change

$136 (-11%)
30-34

Rate & change

$127 (-6%)
35-39

Rate & change

$124 (-2%)
40-44

Rate & change

$122 (-2%)
45-49

Rate & change

$120 (-1%)
50-54

Rate & change

$111 (-8%)
55-64

Rate & change

$100 (-10%)
65-74

Rate & change

$96 (-3%)
75+

Rate & change

$101 (+4%)
Note: Table represents car insurance rates by age based on Progressive Personal Auto policies sold countrywide from September 2020 to August 2021.
How much does it cost to add a teenage driver to my insurance?
It's generally cheaper to add a teen driver to an existing insurance policy rather than buy a separate policy for them. That's because putting a teen driver on their own policy means they don't benefit from the comparatively lower rate you've earned as a more experienced driver. Plus, teen drivers have a greater risk of getting into an accident, which means a separate policy would be priced higher to offset the increased risk of a claim.
How to save on car insurance for teens
You can lower the cost of car insurance with discounts for students and teen drivers.* At Progressive, we offer a variety of discounts for teens including:
Good student: B average or better? Your young driver can earn about a 10%†† discount in most states for good grades.
Multi-car: If your teenager has their own vehicle, we'll chip in another discount just for having more than one vehicle on your policy.
Teen driver: If a driver on your policy is 18 years old or younger and you have been consistently insured for at least 12 months, we'll add a discount.
Snapshot®: Our Snapshot® program rewards good drivers based on how they drive.† Plus, our mobile app can reveal if your teen was driving distracted. Learn more about distracted driving.
How to get auto insurance for teens
New Progressive customers
The best teen car insurance means customized protection. Get a car insurance quote online or call 1-866-749-7436 and we'll ask the right questions to get your teenager properly covered.
Current Progressive customers
Log in to your policy or call 1-866-749-7436 to add your teenage driver.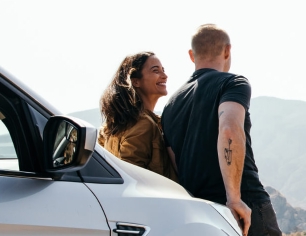 Quote car insurance online or give us a call