Insurance when buying a used car
If you're buying a used car, you'll need at least the minimum car insurance coverage required by your state before you can legally get behind the wheel. If you're purchasing a new insurance policy, the cost of your premium will depend on factors like where you live and what kind of used car you're buying. If you already have car insurance, you can add your used car to your existing policy.
4 min to read
Do I need insurance before I buy a used car?
You may be able to buy a used car without having an insurance policy, if you are buying a car from a private seller, but you will not be able to legally drive the vehicle without car insurance. It's a good idea to get a car insurance quote before buying a used car so you have a ballpark estimate of how much it will cost to insure. Having a quote in hand will also make it faster to purchase a policy after the sale is complete.
How long do you have to get insurance after buying a used car?
In nearly every state, you'll need to provide proof of insurance before taking a used vehicle home from the dealership. If you don't have insurance when you purchase your used car, you won't be able to drive it off the lot until you have a policy. If you already have insurance, you can add the used car to your policy, though you generally have a grace period of a week to a month to do so after buying it, depending on the insurer.
You don't need a separate car insurance policy for your used car, even if your existing policy only covers new vehicle(s). You do need to inform your insurance company that you bought a used car and would like to add it to your policy. If insurance rates change after adding your used car, you will be responsible for paying the difference in premium costs.
Pro tip:
If you get into an accident after your insurer's grace period has lapsed, you may not be covered for damages you cause or damage to your vehicle (if you carry comprehensive or collision). It's a good idea to add your new car to your existing policy as soon as possible to avoid any accidental lapses in coverage.
How much does used car insurance cost?
Insurance rates for used cars will vary based on several factors including, your location, state minimum car insurance requirements, your age, and the car's make and model.
Learn more about the factors that impact your car insurance rate.
Is it cheaper to insure a new car or a used car?
In many cases, a used car can be cheaper to insure than a new one, especially if you carry comprehensive car insurance or auto collision coverage. Since used cars are generally worth less than new ones, they can be cheaper to repair or replace. However, car insurance rates depend less on whether the car is used or new and more on the details of the vehicle and your policy, including the car's make and model, your location, and the amount of coverage that you carry.
For the most part, there's no difference between insurance for used and new cars. Considerations for standard coverages like liability, uninsured motorist (UM), and personal injury protection (PIP) coverage are generally the same.
How to insure a used car with Progressive
Go online
We ask easy questions, and you customize your coverages.
Get a car insurance quote
Call a rep
Talk with a licensed representative who can guide you through the process.
Call 1-866-749-7436
Through an agent
Connect with an independent agent in your area.
Find an agent online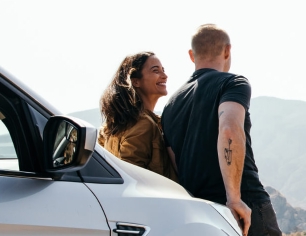 Quote car insurance online or give us a call