How to sign over a car title
Transferring a car title is an important step when selling your vehicle privately. You'll need the original car title, the current odometer reading, and your driver's license. You might have to submit other forms. Each state has different requirements for signing over a car title to a new owner. Check with your state's department of motor vehicles for their rules.
4 min to read
What is a car title?
The car title is a document from the state saying that you're the legal owner of a particular vehicle. A title typically includes the vehicle identification number (VIN) as well as your car's make, model, year, color, and mileage when you got it. The title also has your name and address, the issue date, plus signatures from you, the seller, and a state official. If you still have a loan, that information would be included in the title, too.
How to transfer a car title
When transferring a car title, you need to make sure you have the car title — either the paper or electronic copy. This is proof that you own the vehicle. Next, check with your state department of motor vehicles (DMV) to determine the specific steps to follow for transferring ownership. Each state has a unique process, although there are similarities.
Anyone else listed on the title with you, which could include a spouse or co-owner, must agree to the sale before you can transfer it to a buyer. The actual form you'll complete for signing over a car title depends on the DMV. In some states, the car title has spaces you can fill in to complete an ownership or car title transfer. However, many states request that you provide a bill of sale — a document containing sale information, including the purchase price.
After completing the title transfer documents with the buyer and getting your signatures notarized if necessary, the buyer submits the applicable paperwork to the DMV. The buyer might also need to pay the state a title transfer fee and sales taxes.
What if there's still a loan on the car?
If you're still making car payments to a lender, that financial institution or company will have a lien on the car. The lender, or lienholder, will keep the car's title until it's paid off. In that case, you'd contact the lender about your options. You might need to pay off the loan before selling the car, although the lender might allow a buyer to take over your loan balance.
Which documents do I need to transfer a car title?
The DMV should have a list to consult, but at a minimum, you'll need the original car title, the vehicle's current odometer reading, and your state-issued driver's license. In addition, the DMV might ask you for proof of insurance, a VIN verification form, and a bill of sale.
Pro tip:
If you're selling your car privately to an out-of-state buyer, find out as soon as possible whether the DMV has additional title transfer requirements.
How do I get a car title copy?
You can request a duplicate or replacement car title from your DMV if you lost the original. Find out which information and documentation you need to provide the state. You'll likely need to pay a fee for the service. Allow time for the DMV to process your request, too. Learn more about how to replace a lost car title.
Do the signatures need notarizing?
Some states require notarized signatures on a car title or the bill of sale that accompanies the title in a private sale. Most major banks have a notary public who can witness the signatures. Notary public service is usually free for bank customers and requires a small fee for people who aren't.
Is there a time limit to transferring a car title?
The timeframe to finish a vehicle transfer in a private sale varies by state. This deadline can range from ten to 30 days or more. Going past that date could mean incurring a fee. Seller responsibilities differ from state to state, so check with your state's DMV. In California, for example, you'd only have five days after a private car sale to submit a notice of transfer and release of liability to the DMV.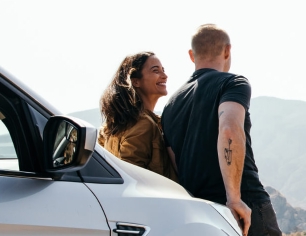 Quote car insurance online or give us a call