How to get a new license plate
To get a new license plate, you must register your vehicle in the state where you live through your state's motor vehicle department. Displaying a current license plate indicates that your vehicle is properly registered. Once your vehicle is properly registered, the state will provide a license plate — and any tags required with the plates.
5 min to read
What do I need to get a license plate?
Driving without a license plate is illegal, and you must successfully register your vehicle in your state to obtain a valid license plate. To register your vehicle, you must provide proof of ownership via your vehicle's title to your state's motor vehicle department (often known as the BMV or DMV). FindLaw has a directory of vehicle registration laws by state. The number of documents you'll need will vary, so check your state's requirements, but you'll typically need to show some combination of the following:
Vehicle's title or signed lease agreement
A bill of sale or proof of sales tax payment
Car's odometer reading
How long does it take to get a license plate?
How long it takes to get license plates can vary from a few days to weeks or longer, depending on the state.
What's the difference between registration, license plates, and tags?
Vehicle registration: Obtaining the vehicle registration is the first step in getting your license plate and tags. As part of the registration process, you'll receive either a registration card or certificate that remains with the vehicle. If you purchased a new car from a dealer, sometimes the dealer will register the car.
License plate: The purpose of a license plate is to provide quick identification of the vehicle. Your state's motor vehicles department issues license plates and vehicle registrations. When you receive your new plates, you will attach them to the front and rear of your vehicle, though some states only require rear plates. Autolist.com lists the states that require front license plates on vehicles and the states that do not require a front license plate but do require a rear one.
Tags: A tag signifies an up-to-date registration. The tag, typically a sticker, is often placed on the license plate and comes when you renew your registration. A replaceable tag allows for easy confirmation of a current registration. Tag requirements differ by state.
How to get tags for a car
If your state requires "tags," you'll receive dated stickers (the tags) when you get your new license plates and when you renew your registration. However, not all states use a dated sticker system on their license plates. When you renew your vehicle registration, adhere the new sticker to your license plate, on top of the previous one. The sticker indicates to law enforcement that your registration is current.
Pro tip:
Find out if your state requires tags or not. Some states may not issue registration stickers but rely on other means to monitor current registration. Officers may also use license plate recognition software to confirm the validity of a vehicle's registration electronically.
How to install a license plate
Gather your tools and supplies: Aside from your new plates with current tags attached, you'll need four screws of the appropriate size and a screwdriver that matches the screws.
Remove the old plates: Using the screwdriver, turn the screws counterclockwise to remove them. Keep track of the screws as you remove them.
Line up the new plate: Align the plate so its holes match the holes in your bumper. If you have a frame for your plate, layer that on top of the plate with its holes also aligned.
Attach the new plate: Insert the screws through the plate and bumper holes. Using the screwdriver, turn the screws clockwise to tighten them (without overtightening).
Can you get insurance without a license plate or tag?
While you can purchase an auto insurance policy even if you don't own a vehicle, you may be unable to cover the vehicle on your policy without registering it. And without registration, you won't have license plates or the required tags that mark a valid registration.
If you regularly drive a car that you don't own or have a loan/lease for, look into non-owner car insurance, which provides auto liability coverage without requiring registration in your name. You can also learn about insurance when borrowing cars.
Can I get insurance on a car with temporary plates?
Yes, since you need proof of insurance as part of the car registration process, you can get insurance on a car with temporary plates. Just be sure to get your permanent plates before your temporary ones expire.
What's a custom license plate?
States offer several license plate options during vehicle registration. Some states have a mix of plates featuring different backgrounds available for an additional fee.
Vehicle owners can also customize their license plate with a unique combination of numbers and letters. These are often called vanity plates and have an additional fee.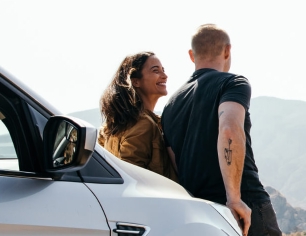 Quote car insurance online or give us a call