Can you drive without a license plate?
Driving without a valid rear license plate is illegal in all 50 states. Some states, however, don't require a front license plate. The only exception for driving without a permanent license plate is for a brief window after you've purchased a new car and you're waiting for your permanent plates. During this period, you'll need to attach a temporary plate or plates (provided by the dealer) to the vehicle.
3 min to read
What happens if you drive without plates?
The penalty for driving without a license plate varies from state to state. If your car is registered and you simply don't have the plates on it, some officers may give you a verbal warning. But you can typically expect a ticket and fine for driving without a license plate. The repercussions can be more serious if you're caught doing the following:
Driving without license plates for an extended period
Becoming a repeat offender
Failing to register your vehicle or renew the registration
If you fall into one of these categories, you might have your license suspended or worse.
Do you need a front license plate?
Although all states require a rear license plate, nearly half don't require a front license plate. Check your state's laws on front plates before you drive without one — start by checking your BMV/DMV's website. And even if it's legal to drive without a front plate in your state, consider the benefits of having a front plate. If your car is stolen, a front plate can be helpful in law enforcement's search to locate it.
How long do you have to get license plates after buying a new car?
Plates for a new car usually arrive in the mail within a few weeks, and most laws align with this timeframe so you can easily meet your state's permanent plate requirements. Before getting your license plate, you'll need to register your vehicle via your BMV or DMV.
Driving without a license plate or an expired temporary plate is a signal to law enforcement that the driver may not have registration and/or a license. Learn about vehicle registration and how to get a license plate.
What about driving without tags?
Your license plates and tags are two different things. You'll need both to drive legally. While plates are primarily used for vehicle identification, tags are the stickers that indicate registration. It's important to apply your new tags properly after renewing your registration. Driving without tags or with expired tags can lead to a ticket if an officer spots the missing or outdated stickers.
Can you get car insurance without a license plate?
It's possible to get car insurance without a license plate, and you typically need to bring proof of insurance when you register your vehicle to get your permanent plates. The takeaway is simple — be sure to get all three, typically in this order:
Purchase car insurance before driving your new car. If you're purchasing your car from a dealer, bring your proof of insurance so they can provide you with your temporary plates before you leave the lot.

Register your car at the BMV/DMV as soon as possible after purchasing it and bring your proof of insurance.

Replace your temporary plates with your permanent ones and provide your permanent license plate number to your insurer if needed.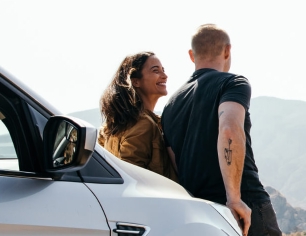 Quote car insurance online or give us a call