What is an MVR?
Your MVR, or motor vehicle record, pulls information regarding your driving history from your state's department or bureau of motor vehicles. Better known as your driving record, your MVR includes any moving violations, traffic tickets, and accidents you've had either within a given time period or throughout your driving history.
3 min to read
What information is included on an MVR?
Your motor vehicle record contains vital information about you like your name, date of birth, and driver's license number. Your MVR also includes any motor vehicle events you've had, including traffic citations, license suspensions, DUI convictions, and accident reports. Many states use a point system to track various driving violations, but the types of violations that earn points vary by state. A lot of drivers are aware of this system — it's often referred to as the "points on your license."
Keep in mind that these points apply to your MVR score, not your license. If you build up too many points, you could lose your license or face other consequences like mandated driving classes. Your MVR score is the number of points you've acquired on your driving record. Not all states use a point-based system or issue an MVR score, and those that do take different approaches to assigning point values to specific violations.
What is an MVR check?
A motor vehicle record check, or an MVR check, is a report of your driving history, usually requested by a potential employer. If you apply for a job that requires driving a company vehicle, the company may pull your driving record as part of their employee background check process.
How long do violations remain on your driving record?
More commonplace violations like speeding tickets tend to "fall off" your record quickly, often within 3-5 years. More serious events like at-fault accidents or DUI convictions may remain on your record for significantly longer. It ultimately depends on how long your state keeps certain violations on its motor vehicle records.
What's a lifetime vs. standard driving record?
In some states, your MVR is divided into two sections — your standard driving record and your lifetime driving record. Your standard driving record shows recent violations. "Recent" is defined by the state in which you reside, but usually only includes the last five to ten years. Your lifetime driving record shows every mark against you throughout your lifetime, but not all states maintain lifetime driving records.
How does an MVR impact car insurance?
Auto insurance companies use your MVR, along with several other factors, to determine your insurance rates and coverage eligibility. Your driving history is a significant factor in determining your car insurance rate. If you have a history of getting speeding tickets or causing accidents, insurance companies will typically charge you more for insurance because you're more likely to file an auto insurance claim. However, minor violations will generally have less of an impact on your car insurance rate than a more serious event like an at-fault accident. Get an auto insurance quote today and find the customized coverage you need at a price that works for you.
How can you check your driving record?
You can request a copy of your MVR from your state's department or bureau of motor vehicles. Most states charge a nominal fee to issue a copy. Depending on the state, you may be able to apply online or by mail. Check your state's DMV or BMV website to find out how to request a personal copy of your MVR.
Like your credit report, your MVR is worth checking every so often for inaccurate statements. For example, if you took a defensive driving class to reduce the number of points issued after a ticket, check your MVR to ensure the change was made. If not, you'll need to reach out to the DMV or BMV to update your MVR.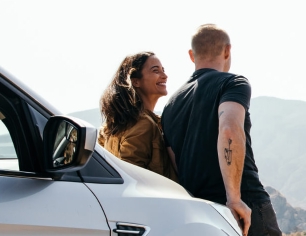 Quote car insurance online or give us a call