How to negotiate a used car's price
Whether you're buying from a dealership or an individual, negotiating for a used car requires knowledge of the vehicle. When you understand the condition of a used car, its age and depreciation, and other details, you can negotiate confidently and try to get the best price. Online research tools can help you find the information you need before you start the process of buying a used car.
4 min to read
How much can you negotiate on a used car?
It often comes down to the individual seller, the vehicle's condition, and the impression you make. A good rule of thumb when deciding how much to negotiate on a used car is to aim for paying the market value of the vehicle, since that's likely a fair price for both parties. Financing and whether or not you trade in a car can also play a role in your negotiations.
Know the market value
Plan to do your research before visiting a dealership or meeting with an individual selling a car. Find out the average market value by consulting car valuation sites like Kelley Blue Book or Edmunds. If you know the car's depreciated value before you arrive and you get a good idea of the car's condition, you'll know if the seller is asking for too much. Learn more about what to look for when buying a used car.
Compare prices
Shop around to see what other similar vehicles are going for in your market. If you can quote prices from other cars in the area, the seller might be more willing to bring down the price. Remember, they want to make the sale, and if they can't offer you a fair price, you can look at other options.
Negotiate the added costs
You should also know what can and can't be negotiated. A dealership may have a strict price they can't go below for each model. However, the dealership's added costs, like transport fees, might be negotiable.
How much can you talk a dealer down on a used car?
Negotiating the price of a used car at a dealer should depend on the car's condition, market value, and how much you're willing to pay.
Negotiating a used car price begins with your first impression, so strike a balance between friendly and confident. Each salesperson has their own tactics, but it's a common strategy to imply that there's a time limit on your decision. If a salesperson tries this tactic, smile, thank them for the knowledge, and take your time anyway. Many discounts will likely still be available when you're ready.
Despite the MSRP sticker price of a car, you can make any offer, and a good salesperson should be willing to consider a reasonable price based on the car's condition. If the car you want has been on the lot for several weeks, use the fact that it isn't moving to bring the price down.
Take time to thoroughly inspect any vehicle you wish to buy, and consider getting a mechanic to inspect the used car. If you find anything wrong that may require repairs, use that knowledge to talk the dealer down. If they propose a new price, be prepared with a counteroffer of your own and continue until you agree.
If you can't reach an agreement, don't be afraid to walk away from the deal. Leave your name and number with the salesperson and ask them to call if they change their mind. In the meantime, you can keep looking for a used car that's fairly priced elsewhere.
Negotiating a used car price with an individual seller
You can use many of the same negotiation tactics when buying a used car from a private seller as you would with a dealer. Unlike dealers, individuals typically don't have high overhead costs to cover when they sell their used car, so the price can be even more dependent on the car's market value. However, keep in mind that some private sellers have an outstanding loan they want to cover with the sale.
When negotiating a car price with an individual, ask why they're selling and how much they're willing to take. Also, see if they'll allow you to take the car to a trusted mechanic before finalizing the deal. You can negotiate the price down if you find any mechanical issues with the car.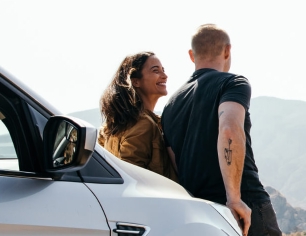 Quote car insurance online or give us a call