What is a car title?
A car title is a legal document the state government issues to demonstrate who owns the vehicle. A title includes official information about the vehicle and the owner. A car title differs from vehicle registration and proof of insurance — it's strictly proof of car ownership. You can obtain a title by purchasing the car outright, paying off an auto loan, or being the recipient of an ownership transfer. You should store your car title in a secure place.
4 min to read
What information is on a car title?
A car title demonstrates proof of ownership, or who owns the car. The information on a car title can vary by state but typically includes:
Car make and model and year
Owner's full name
Owner's address
Issue date
Odometer reading on the issue date
Signatures of the buyer, seller, and a state official
What's the difference between a car title, registration, and proof of insurance?
The car title differs from vehicle registration, which is a certificate from the state stating that this vehicle can legally be driven on public roads. And both the car title and registration are separate documents from proof of insurance, which is issued by your car insurer and shows which auto insurance coverages you have. Learn more about the difference between car title and registration.
What are the types of car titles and how do they work?
There are several different car title types, depending on your state. Many types don't apply to private car owners, but the most common car titles issued by states work by designating the vehicle as one of the following.
Clean: An inspected vehicle that hasn't been in an accident and isn't damaged
Clear: A vehicle that has been repaired and passed inspection
Rebuilt: A vehicle that was severely damaged before being repaired or rebuilt
Salvage: A vehicle that's sustained significant damage and needs rebuilding
Other less common title types you may come across include: junk car for one that can't be repaired, lemon for a vehicle with hazardous components, odometer rollback when the mileage was lowered illegally, and dismantled for a completely totaled car. Learn more about salvage car titles.
Do you own a car if you're on the title?
Legally, the vehicle belongs to whoever is listed on the car title as the owner or joint owner, which may include the lienholder if the car is currently financed. The simplest way to prove ownership of a car is to show you're listed on the car title as a current owner — and it will be difficult or impossible to prove ownership if you're not listed on the title. To add or remove someone from the title, find out the correct process from your state's BMV or DMV.
How do you get the car title?
The process for transferring a car title will depend on the type of sale. When you purchase a vehicle with no financing, you should receive the title during the car buying process. If you buy from a car dealer, you'll need to sign documents at the dealership and they can usually help you with the car title paperwork. In a private party car sale, the seller will need to transfer ownership to you.
If you took out a loan to purchase the car, there's a lien on the title, and the bank may hold the title until your loan is paid off, depending on your state. Learn more about car financing and loan documents.
If you paid off your car loan and want to remove the lien on it, you'll need to follow your state's BMV or DMV steps to get the title in your name. Learn how to remove a lienholder from a car loan.
Contact your state BMV/DMV or department of transportation office about replacing a lost car title, or a damaged or stolen one. You'll likely need to pay a small administrative fee. Receiving a new one could take several weeks.
When should you update your car title?
The car title must be accurate, so you'll need to update it if you sell the vehicle, transfer ownership to someone else (even a family member), or move to another state. The process and deadlines for making changes vary by state, but the window is often 30 days.
Where should you keep your car title?
Don't keep your car title in the car where it could get lost, damaged, or stolen. Unlike registration and proof of insurance, which need to be easily accessible whenever you drive, you should store your car title in a secure place as you should other important physical documents like your passport, birth certificate, and Social Security card.
Some states can issue an electronic car title and keep a digital version safely stored for you. To find out whether this is an option, check with your BMV or DMV.
Go online
We ask easy questions, and you customize your coverages.
Get a car insurance quote
Call a rep
Talk with a licensed representative who can guide you through the process.
Call 1-866-749-7436
Through an agent
Connect with an independent agent in your area.
Find an agent online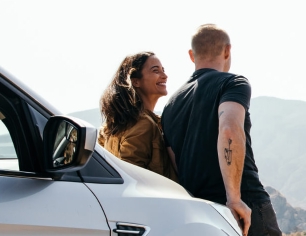 Quote car insurance online or give us a call