What is car trim?
Car trim types or levels refer to different pre-packaged groups of features for a particular car. The base model is the cheapest, standard offering that includes the least amount of features. Higher trim levels usually cost more and include additional features, technology, and performance enhancements.
3 min to read
Base model vs. fully loaded cars
When comparing car trim levels, a base model is the simplest level and a fully loaded car is the highest trim level available with most or all features included. The amount of high-tech features can impact the price significantly between the base model and a fully loaded vehicle. In some cases, a fully loaded car can be more than double the cost of a base model.
Understanding vehicle trim levels
In the past, manufacturers usually offered three to five car trim levels. As cars have become more advanced, the number of available trim levels has increased, with some vehicles offering seven or more options. While each manufacturer has its own names, there are some common naming conventions for trim levels:
S or L often refers to standard or entry-level models, also considered the base model.
EX or SXT usually indicates extra or standard extra trim, a mid-range upgrade package.
SE, SX, SRT, and GT are common abbreviations for sport and performance packages, referring to sport edition, sport crossover, street and racing technology, and Gran Turismo.
Most car trim levels with an L (EX-L, LX, LE, SEL, etc.) are luxury trim packages.
Trim levels with names like Platinum, Premium, or Limited usually represent higher-end packages, often (but not always) at the top of the range.
Can I upgrade a base car model?
It will depend on the manufacturer, but in many cases, you may not be able to buy a base model car and upgrade it with individually added features. For example, if you'd like to add a navigation system to a base model, you may not be able to add that feature on its own. Usually, it will be a part of a technology package with other features and may only be available with higher trim levels.
Should I buy a base model car?
The decision to buy a base model or a higher trim level will depend on your budget and the features that you want in a vehicle. If you are looking for standard features and want to spend less money on a car, a base model may be the right fit for you. On the other hand, a higher trim level may be the better choice if you are looking for more features and have a more flexible budget. If you're interested in adding features to a base model, it may be more cost-effective to buy a higher trim level with more features automatically included.
Pro tip:
If you're looking for a particular trim level that is out of your budget, head to the dealership at the end of the month or end of the model year. At certain times of year, the dealership might be willing to give you a discount or charge you for a lower trim level.
Vehicle trim level and auto insurance
Although there's no direct relationship between trim levels and insurance premiums, the trim you choose might have an impact on your insurance. More expensive vehicle makes and models typically cost more to insure because they have a higher value and are often more expensive to repair, so fully loaded cars may be more expensive to insure than base model vehicles.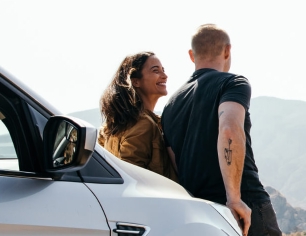 Quote car insurance online or give us a call