Truck vs. SUV: Which one should you get?
Deciding between trucks and SUVs often comes down to the price difference, how many passengers you want to fit, and the type of cargo you plan to haul. Choose a truck for potentially lower (though rising) costs and to haul heavier cargo. Choose an SUV to fit more passengers while still having the option to transport items when you need to.
3 min to read
Truck vs. SUV: Pros and cons
First, consider what you need your vehicle to do. Some full-size SUVs can haul 9,000 pounds, while full-size trucks with the most power can tow over 20,000 pounds. An SUV's potential for storage space combines with room for more passengers, while a truck's cargo area is completely separate from the interior. Pickup beds can make loading and unloading cargo much easier and have weather-proofing add-ons like bed covers, while cargo is always fully protected from the elements inside an SUV.
If you're still on the fence, decide how important each of these features is to you, and look for the truck or SUV that matches your priorities:
Safety: SUVs vs. trucks
More SUVs than pickup trucks have received high safety ratings from the Insurance Institute for Highway Safety. But both vehicle types are bigger and heavier than other cars on the road.
When assessing a truck's or SUV's safety, compare ratings and look for equipment like front crash prevention systems and automatic emergency braking, which may improve your chance of avoiding an accident on the road.
Repair costs: SUVs vs. trucks
Repair costs can depend more on your usage and particular model than your vehicle type. A truck or SUV that goes off-roading and tows heavy loads may need more frequent maintenance and repairs. On average, according to RepairPal, full-size trucks have an annual repair cost of $936, while full-size SUVs average $784.
Drivability: SUVs vs. trucks
Pickups are great for exploring nature and tackling tough hauling jobs, while compact and mid-size SUVs may be better for maneuvering through tight spaces or parking in the city. Both can have competitive off-road and bad-weather driving capabilities, depending on the model.
Comfort: SUVs vs. trucks
Truck models have different configurations of cab styles and bed sizes. Some pickup trucks are barebones cargo haulers with only front seats, while others are more luxurious and have two full rows of seating to fit more passengers.
However, even the most affordable SUVs rate high for comfort. Pickup trucks generally have a rougher ride, particularly for passengers.
Fuel efficiency: SUVs vs trucks
Typically, a larger pickup truck with more capabilities will burn more gas than a mid-size SUV. Gas mileage depends on the size, capabilities, and usage of your particular vehicle, so be sure to look up the average miles per gallon of the trucks and SUVs you're considering.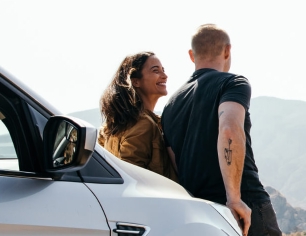 Quote car insurance online or give us a call