How to buy a new car
When buying a new car, start by researching the cars you're interested in and setting your budget. Then compare multiple dealers and cars. Negotiating is commonplace when buying a car; test the waters to see where you'll get the best price. And once you decide on a car, don't feel pressured to purchase dealer add-ons immediately — you can typically say no and get them later if you change your mind.
5 min to read
What are the benefits of buying a new car?
Each has its benefits, and here's why you might decide to go with buying a new car over a used car:
The car has never been driven (outside of transport and test drives), so there shouldn't be any underlying usage-based mechanical issues. To be safe, find out what to do if you buy a lemon.
New cars have the most current safety and comfort features.
A new car is entirely customizable. If you don't like the color options you see on the lot, the dealership can order one in the color your prefer. You can also request the version of the vehicle that has your desired features, like a moonroof or dashboard navigation system.
Manufacturer car warranties typically last for two to three years or 36,000 miles, whichever the car reaches first. Buying a used car often means the manufacturer's warranty is already expired.
Pro tip:
Learn some car dealer lingo before buying a new car: the manufacturer's suggested retail price (MSRP), annual percentage rate, the interest rate on a car loan, and the Monroney sticker on a car's windshield, which states the asking price and is your negotiation starting point.
How to buy a new car from the dealership
When buying a new car from a dealership, follow these steps to help make sure you're happy with your new vehicle and what you pay for it:
How to insure your new car with Progressive
Go online
We ask easy questions, and you customize your coverages.
Get a car insurance quote
Call a rep
Talk with a licensed representative who can guide you through the process.
Call 1-866-749-7436
Through an agent
Connect with an independent agent in your area.
Find an agent online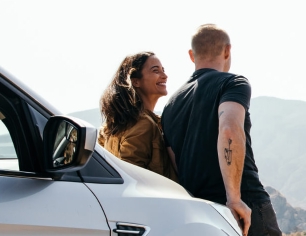 Quote car insurance online or give us a call