Does homeowners insurance cover Airbnb?
Generally, no. While Airbnb, VRBO, and HomeAway may be a great way to passively earn income for space you're not using every day, renting your home to short-term visitors is essentially like running a business. Using your residence as a business typically won't be covered by your home or condo insurance policy, even if it's just temporary or a one-time thing.
2 min to read
Does Airbnb offer insurance coverage?
Airbnb's revamped AirCover is free for hosts and typically provides up to $1 million of Airbnb liability coverage and $3 million of damage protection on your short-term rental. Airbnb AirCover touts the insurance coverage as above and beyond its competitors' offerings by giving hosts important protection encompassing pet damage, deep cleaning, income loss, and property damage. Please review the terms and conditions, any coverages and host agreements for details.
What happens if an Airbnb guest damages my property?
Airbnb's AirCover may reimburse up to $1 million in damage to your home caused by guests and their pets, if you choose to allow animals. The professional deep cleaning reimbursement can come in handy, too.
What if an Airbnb guest steals from my home?
You can submit theft claims to Airbnb and be reimbursed for many items under certain circumstances.
What if my Airbnb guest won't leave?
If your Airbnb guest refuses to leave after their stay has concluded, you may need to get authorities and/or Airbnb involved. This situation may be rare but stands as another example of the various risks you take with short-term renting.
Should I rent my home on Airbnb?
Becoming a host with short-term rental sites like Airbnb, VRBO, and HomeAway brings many considerations. When it comes to insurance, your standard homeowners insurance policy might not provide protection once you begin to use your home as an Airbnb or short-term rental, even if the claim is not in relation to your guests. Learn more about how insurance covers your vacation rental.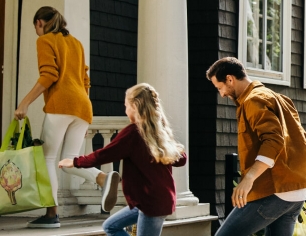 Quote homeowners insurance online or call for advice