How does a vacation home or vacant home insurance policy work?
A secondary home insurance policy may protect your property, belongings, and assets like your primary home's insurance policy—even when you're not living in it or renting it out. Remember that secondary homes generally cost more to insure than your primary residence due to the additional risks involved, and coverage may be more restrictive than a home insurance policy on your primary residence.
3 min to read
Do I need a second home insurance policy for a vacation home?
If you're financing a second home, be it a summer beach house, cabin, or vacation rental that sits vacant for long periods, your lender will require insurance for your vacation home to help protect their investment. Even if you have paid for your vacation home in full, it's a significant asset, so you'll want to protect the property against damage from covered perils.
What does a second home policy cover?
Home insurance on a vacation home or other secondary residence usually provides the same coverage as the policy on your primary home. These coverages include dwelling coverage, which protects the home's structure, other structures coverage for structures that aren't attached to your home such as a detached garage or tool shed, personal property coverage, personal liability coverage, and more. As with your principal residence, insurance on a secondary home may cover potential damage caused by fire, storms, water, and other acts of nature. However, some secondary home insurance policies only cover perils specifically named in the policy. In that case, any damage that occurs due to perils not named on your policy won't be covered. Learn more about what home insurance covers.
Does insurance work differently for a vacant home?
In most instances, a standard homeowners insurance policy won't cover damage to a vacant home. If your vacation home will remain unoccupied for several weeks, consider unoccupied home insurance, which is designed to provide coverage and protection even to unoccupied homes. Unoccupied or vacant home insurance is ideal if you travel for multiple weeks, own a second home for seasonal living, or rent out a second home but are in between tenants.
Why is insurance more expensive for a second home?
If you own a vacation home or beach house, insurance rates may be high because it's considered a higher-risk property than your primary residence. There are various reasons second home insurance costs are higher and are deemed riskier, such as:
Greater chance of burglary:

Since vacant or unoccupied homes are more likely to be targeted by intruders than occupied homes, the risk to your insurance company is more prevalent.

Hazards are more likely to go undetected:

Homes that sit unoccupied are more susceptible to damage such as leaks, burst water pipes, fires, and undetected mold.

Location risks:

The home's location can also impact home insurance rates for vacation homes. Vacation homes are often located in higher-risk areas, such as near the beach where flooding and hurricanes are more likely to occur, or in remote, heavily wooded areas where forest fires may be an issue. Homes that are off the grid and have no running water or electricity don't require special insurance but may also be riskier to insure.
How do I insure my vacation rental home?
Regardless of whether you rent out your vacation home, you'll need a homeowners insurance policy to protect the property, and your belongings and assets. If you do rent out your vacation home, you may be able to purchase a policy that covers loss of rent in certain instances.
Insure your second home through Progressive
Online
Compare and customize your coverages and limits when you quote online.
Quote homeowners insurance online
Call a rep
Talk to a licensed representative who can help you quote home insurance.
Call 1-866-749-7436
Through an agent
Connect with a licensed independent agent in your neighborhood.
Find an agent online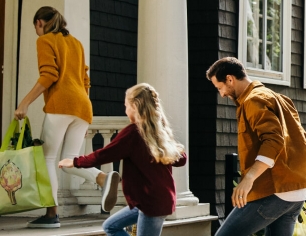 Quote homeowners insurance online or call for advice