Are driveways covered by homeowners insurance?
A homeowners policy may also cover secondary structures on your property, including decks, patios, sheds, and driveways. If a covered peril causes damage to your driveway, your policy's other structures coverage may pay to repair the damage, up to your policy's limits and minus your deductible.
2 min to read
How does homeowners insurance cover driveway damage?
Your homeowners insurance policy may extend coverage for sudden and accidental damage to your driveway caused by a covered peril. Suppose a tree falls on your driveway during a large storm and cracks it. In that case, the cost of repairing or replacing your cracked driveway may be covered by your homeowners insurance policy. Your policy may cover other perils including fires, tornadoes, windstorms, or hail.
When does homeowners insurance not cover driveway damage?
Standard homeowners insurance policies won't cover damage to your driveway from certain natural disasters and perils such as:
Floods
Landslides
Mudslides
Pro tips for protecting your driveway
Don't weigh things down. Suppose you rent a large dumpster for upcoming renovations to your home and property. In that case, be mindful of where you position the dumpster on your driveway. Find the most level portion of your driveway, ideally out of direct sunlight. Hot asphalt is more vulnerable to sagging, cracking, and leaving permanent impressions. Consider placing boards under the dumpster's wheels to distribute its weight more evenly.
Also, avoid parking your car or other heavy objects near the edge of a driveway. The edges may be more susceptible to chipping and cracking under excess pressure.
Proactively protect your investment. Changing seasonal temperatures can significantly impact your driveway's overall condition. Frost, specifically, can wreak havoc on the pavement since ice ultimately forces its way upward. As a result, your driveway could crack, lift, or warp. Applying a driveway sealant can help avoid more extensive repairs or replace the driveway altogether.
Flush fluids away. Prolonged exposure to moisture and fluids can damage both asphalt and concrete driveways. Gasoline and other auto-related liquids that drip continually can cause a breakdown of the compound, leaving you with a series of holes and ruts. Also, beware of mold and mildew, as both can grow on a poorly maintained concrete driveway. Be proactive by periodically applying a sealant to help reduce the amount of moisture on the driveway's surface.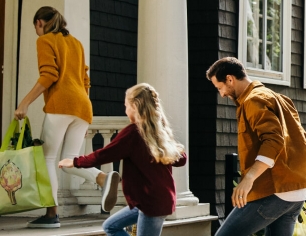 Quote homeowners insurance online or call for advice