Does homeowners insurance cover sinkholes?
A standard homeowners insurance policy typically doesn't cover damage caused by a sinkhole or other earth movements, such as a landslide or earthquake. It may be possible to purchase a separate policy or add coverage for sinkholes to your current homeowners policy in the form of an endorsement or rider. However, there is an additional premium for adding this type of endorsement to a homeowners policy.
3 min to read
What is a sinkhole?
Generally, a sinkhole is an area of the ground where moving water dissolves away rock, causing cracks and pores in the bedrock to get bigger. Over time, these cracks may form large cavities or caves that allow water to pool beneath the surface. This, in turn, weakens the structure below the earth's surface, and eventually leads to the ground collapsing in on itself, creating a sinkhole.
Sinkholes may vary in size and shape ranging from a few feet wide to hundreds of acres, and their depth may range from less than a foot to over 100 feet deep. If a sinkhole is not repaired properly, it may cause catastrophic damage to a home in a short period of time.
How at risk am I for sinkhole damage?
The risk of a sinkhole developing on your property is low when compared to other natural disasters, but they may occur. According to the United States Geological Survey (USGS), the states where sinkholes are more common include:
Alabama
Florida
Kentucky
Missouri
Pennsylvania
Tennessee
Texas
What type of sinkhole insurance coverage can I get?
Standard homeowners insurance policies typically exclude home insurance coverage for earth movement, such as mudslides, earthquakes, and sinkholes. However, you may be able to add sinkhole insurance coverage to your homeowners policy. This is an endorsement or rider that may be added to your current policy that extends coverage to include damage from sinkholes. Your sinkhole coverage may extend to personal property located within your damaged dwelling at the time of the loss.
Sinkhole coverage may help pay to repair or rebuild your home if it's damaged by a sinkhole, up to your coverage limit. This may include repairing your home's foundation and stabilizing the land it sits on to ensure the sinkhole issue gets resolved.
To file a claim, you must prove that your home has sustained structural damage or is in danger of collapse due to a sinkhole. This coverage may also extend to other structures on your premises.

Pro tip:
Check with your insurance company to verify if coverage is available since not all insurers offer sinkhole coverage. Insurance companies are required to offer sinkhole coverage in certain states, such as Florida and Tennessee. You may have to have an inspection or geological survey done on your property before an insurer will issue a sinkhole endorsement.
Does car insurance cover sinkholes?
When it comes to your vehicle, coverage may depend on the type of car insurance you carry. If you have comprehensive coverage, you may be protected from sinkhole damage. Comprehensive coverage will typically pay to repair or replace your vehicle if it gets damaged by something other than a collision.
What is catastrophic ground cover collapse vs. sinkhole coverage?
Insurers in Florida are required to provide "catastrophic ground cover collapse" coverage as a component of a standard homeowners policy, according to the Insurance Information Institute. However, this isn't the same as sinkhole insurance coverage. Catastrophic ground cover collapse coverage must meet specific conditions.
The Florida Department of Financial Services describes catastrophic ground cover collapse as geological activity that results in all the following conditions:
The abrupt collapse of the ground cover
A depression in the ground cover clearly visible to the naked eye
Damage to a principal building including the foundation
The principal building being condemned and ordered to be vacated by the government agency authorized by law to issue such an order for that principal building
You may be covered by a standard homeowners insurance policy for catastrophic ground cover collapse, but only if the damage meets all four requirements. Sinkholes that do not meet all four criteria likely won't be covered. Florida is currently the only state that requires catastrophic ground cover collapse to be included in a standard homeowners policy.
Insurance companies in the Sunshine State are also required to offer sinkhole coverage as an add-on or endorsement. However, they may require an inspection of your home and potentially decline to provide coverage based on the results.
How much does sinkhole insurance cost?
The cost will vary depending on the state you live in and the specific details of your property. While it may be expensive to purchase, sinkhole insurance coverage may provide invaluable coverage if sinkholes are common in your area.
Sinkhole coverage may also have a separate deductible from your All Other Perils deductible. Percentage deductibles may range from 1% up to 10% of your dwelling's coverage limit. Suppose you carry $300,000 in coverage and have a 10% deductible. Your insurance company may pay for a covered sinkhole loss up to your policy limits, less the $30,000 from your deductible.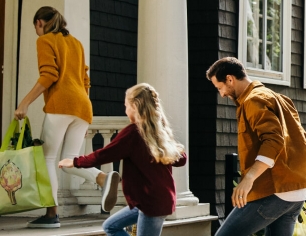 Quote homeowners insurance online or call for advice