Are drones covered by home insurance?
Personal property coverage on your homeowners insurance policy may cover a damaged drone, up to your policy's limits and minus your deductible. Depending on your policy, you may also be covered up to specified limits under your liability coverage if you injure someone or cause damage to their property with your drone.
4 min to read
Is damage to my drone covered by homeowners insurance?
Your drone may suffer multiple types of damage when you are using it and when you are not using it. For example, a fire or a windstorm may cause damage to the drone while in storage. If your drone is damaged by a covered peril, your drone may be covered under your policy's personal property coverage. Also, if your drone is stolen, personal property coverage on your homeowners insurance policy may cover theft. If the drone is used for commercial or illegal purposes or illegal activity, damage may not be covered.
Does home insurance cover damage caused by drones?
Homeowners insurance policies may exclude coverage for damage from an aircraft, but, in certain situations, your policy may cover damage caused by a radio-controlled aircraft or unmanned aircraft systems (UAS). The Federal Aviation Administration considers drones to be unmanned aircrafts, which means they may fall into a gray area for some insurers. Contact your insurance company to determine whether drones are covered under your homeowners insurance policy.
Are there privacy violations to follow when using a drone?
A drone has a bird's-eye view of the surrounding area, which means it can sometimes see into places that would otherwise be private, such as behind a fence or into someone's home. Whether a home insurance policy's liability coverage would cover an accidental invasion of privacy caused by a drone will vary among insurers and policies. If it is proven that you intentionally used a drone to spy on or surveil another person, you could face criminal charges and may not be covered by your homeowners policy.
Cover your personal belongings with a home insurance policy
Online
Compare and customize your coverages and limits when you quote online.
Quote homeowners insurance online
Call a rep
Talk to a licensed representative who can help you quote home insurance.
Call 1-866-749-7436
Through an agent
Connect with a licensed independent agent in your neighborhood.
Find an agent online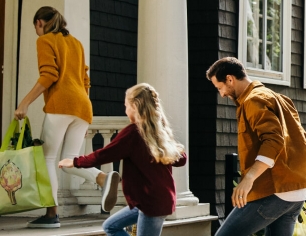 Quote homeowners insurance online or call for advice