How much is golf cart insurance?
The most basic golf cart insurance costs as little as $75 per year* with Progressive. Rates can vary based on your age, driving history, and location. Additional coverages like comprehensive and collision, medical payments, uninsured motorist coverage, and accessory coverage can increase your premium. You may also be able to lower your golf cart insurance cost by bundling insurance, paying upfront, opting for a higher deductible, or taking a golf cart safety course.
2 min to read
Is golf cart insurance required?
Golf cart insurance rules vary state by state. While golf cart insurance may not be a legal requirement in your state, it may be worth considering for the added protection it provides in case of an accident.
Golf carts can't be covered under your regular car insurance — you'll need a specific golf cart insurance policy for that. You can sometimes add a golf cart as an insurance rider on a homeowners insurance policy, but it's only covered when it's on your property. The best way to protect your assets then is with a specialized golf cart insurance policy.
How much does golf cart insurance cost?
Basic liability insurance is available from $75 per year* with Progressive. Note that the exact golf cart liability insurance cost may vary based on several factors, including your age, where you live, your driving history, and the specifications of your golf cart. The liability portion of your insurance policy will help pay for property damage and injuries to others if you're at fault in an accident.
From there, you can add additional coverages to your policy. The more coverage you add, the higher the average cost of golf cart insurance will be, but you'll have more protection if you get into an accident on your golf cart. Learn more about what golf cart insurance covers.
How can I save money on my golf cart insurance cost?
You may be able to lower the average cost of your golf cart insurance by following some additional steps:
Bundle golf cart insurance with homeowners insurance
Pay for your annual premiums in full rather than monthly
Sign up for automatic payments
Choose a higher deductible, which is typically accompanied by a lower premium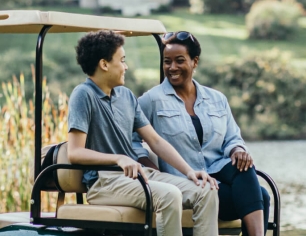 Cruise around in style with golf cart insurance from Progressive