What is a guaranteed insurability rider?
A guaranteed insurability rider gives you the option to increase your existing death benefit without undergoing medical testing or re-qualification. You'll still pay an increased premium for the additional death benefit, but your price will be based on your original life insurance application rather than factoring in your current age and any new health issues. Guaranteed insurability riders are helpful if you suspect you'll develop health issues or if you may want to provide more for your beneficiaries in the future.
4 min to read
How does a guaranteed insurability rider work?
Guaranteed insurability riders work around "option dates" when you can increase your death benefit. Your option dates might be pre-determined calendar dates, or they might be based around life events, and include a window of time during which the option may be selected. No matter when your option dates fall, it is up to you as the policyholder to keep track of them:
Life events are changes in your status that might necessitate an increased death benefit. For example, when you get married or have a child, you'd have a window of time around that event when you could purchase a higher death benefit.
Pre-determined option dates are typically every three to five years from the beginning of the policy. For example, a policy purchased in 2021 might have its first pre-set option date in 2024 or 2026, depending on the details of the policy.
When you reach a guaranteed insurability option date, you can choose to increase your death benefit by any amount up to the maximum established in the policy. The maximum varies by insurer and policy, but it's often equal to the original death benefit payout; so, a $100,000 life insurance policy might be able to be increased by up to $100,000 at each option date. Your policy may also define a total maximum benefit; once your death benefit reaches the total maximum, you won't be able to increase it any further.
You don't have to increase at every option date, and choosing not to won't have any effect on your ability to choose an increase on later option dates. However, most guaranteed insurability riders place an age limit (often around 40) on pre-determined option dates. After you pass the age limit, you'll need to undergo a medical exam and new underwriting if you want to increase your life insurance payout as you age. Be sure to check the details of your policy so you don't miss an opportunity to update your benefit.
What kind of life insurance is compatible with a guaranteed insurability rider?
Guaranteed insurability ("GI") riders are most commonly, but not exclusively, found on permanent life insurance policies like whole life and universal life. That's because the GI rider allows for updates over long periods; a term life insurance policy customer, who will only be covered for a limited period anyway, is less likely to need one.
Pro tip:
Don't confuse a guaranteed insurability rider with guaranteed issue life insurance, a policy that doesn't require a medical exam. Guaranteed issue is designed for someone who might not qualify for other types of life insurance due to serious pre-existing health conditions. It typically has lower death benefit options for a much higher cost.
Should I get a guaranteed insurability rider?
You might consider a guaranteed insurability rider if you're a young, healthy person who can afford permanent life insurance, and you want to account for your circumstances changing drastically in the future — something that would increase the amount you want to provide for your beneficiaries. For instance, possibly needing increased coverage due to an expanding family or increasing income. This would give you the ability to increase your death benefit in the future at your current rate to provide your loved ones with additional support once you're gone.
The younger you are when you buy life insurance with a guaranteed insurability rider, the more chances you'll have to increase your benefit at a low cost. So if you're purchasing life insurance after age 40 or so, a guaranteed insurability rider will probably provide less potential benefit to you due to the increased rate that comes with age.
Remember, adding a guaranteed insurability rider will increase the cost of your life insurance premium by a small amount for the life of the policy, even if you never increase your death benefit. If you don't expect to use the periodic increases, you may prefer to buy a slightly larger life insurance policy without the guaranteed insurability rider.
Ready to buy life insurance?
Get a life insurance quote online, or call 1-866-912-2477 to speak with a licensed representative from Progressive Life by eFinancial.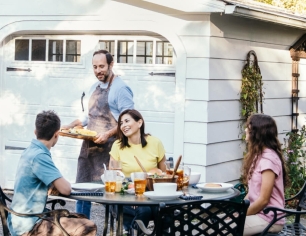 Get a free life insurance quote online in minutes