Does homeowners insurance cover home modifications for the disabled?
Homeowners insurance won't pay for the installation of home modifications for the elderly and/or disabled. However, your policy may provide coverage for modifications or upgrades you've already made to your home that are damaged or destroyed due to a covered peril. Contact your insurer to make sure you have enough coverage for your home modifications if they were built after your policy was obtained.
2 min to read
How homeowners insurance may cover damage to home modifications
If they were in place prior to a covered loss, here's how a policy may pay to repair or replace damaged modifications, up to your coverage limits and minus your homeowners insurance deductible under the following:
Dwelling coverage
Your dwelling coverage limit on your policy may pay to repair or replace modifications, such as a wheelchair ramp, damaged by a covered peril.
Personal property coverage
Specialized equipment that you own, relating to a disability, may be covered under your personal property coverage if damaged by a covered peril, up to your coverage limits and minus any deductible.
Personal liability coverages and medical payments
If someone who doesn't live with you is injured on your property and the injury is related to an installed modification (e.g., slipping on a ramp, tripping around a stair chair lift), personal liability coverage and medical payments coverage may pay for their medical expenses, up to the limits of your policy. If you need more than the maximum amount of liability coverage offered on a homeowners policy, an additional Progressive umbrella policy may provide coverage up to $5 million.
Cover modifications to your home through Progressive
Online
Answer questions about your property and then customize your coverage to your needs.
Quote home insurance
Call a rep
Talk to a licensed representative who can answer your questions.
Call 1-866-749-7436
Through an agent
Talk to an independent agent about your options.
Find an agent online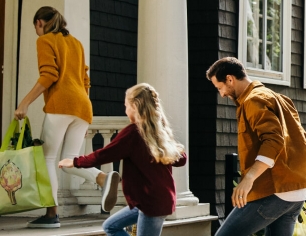 Quote homeowners insurance online or call for advice