Does having a dashcam lower insurance?
A dash camera can help keep your insurance rates low. While savings may not be directly offered — Progressive, for example, does not offer a dashcam discount — there may be insurance benefits from installing cameras in your car. For example, dashcam recordings may be useful in capturing videos to provide supporting evidence for insurance claims.
3 min to read
How does a dashcam work for car insurance benefits?
A dashcam, or dash camera, records and saves road activity. The recorded footage can provide direct evidence to your car insurance company of what caused an accident instead of relying solely on eyewitnesses to determine how an accident occurred. Dashcams can be installed yourself or by a professional. They're commonly mounted on the windshield or dashboard, capturing video footage from inside or outside a vehicle. Many devices can record in two directions with a dual interior and exterior camera.
After a car accident, the recordings from a dashcam might provide an explanation of what happened. This footage may help resolve claims or accidents where fault is disputed.
Many collision scenarios can occur, resulting in the need for proof on your behalf. These incidents include being hit by a texting driver or getting an unwarranted citation from law enforcement. Accessing the recordings from the dashcam could be used in your favor to reveal what really transpired.
Is there a dashcam car insurance discount?
Insurance companies generally don't offer discounts for dashcams, but they can help you avoid an increase in your insurance rate by providing evidence that you weren't at fault in an accident.
What are the benefits of installing a dashcam in my car?
It provides video evidence
A saved recording of an event that damages your vehicle or others' can expedite the claims process and prove that you're not at fault in a collision.
Incidents commonly captured by dashcams include:
False insurance claims
Roadside accidents
It encourages mindful driving
Distractions are everywhere when you're behind the wheel. Glancing down to adjust the radio volume or searching for directions are both dangerous examples of distracted driving. Interruptions while driving are likely, but a dashcam can be a reminder for drivers to focus on the road.
Are there certain insurance-approved dashcams?
Before purchasing a camera, it's important to know that an official insurance-approved dashcam doesn't exist. Owning a dash camera is your choice. Selecting a model should be determined by personal preferences, such as your budget or installation requirements. Bonus features include capturing videos in high definition, auto-recording after motion is detected, or conveniently connecting your device to WiFi.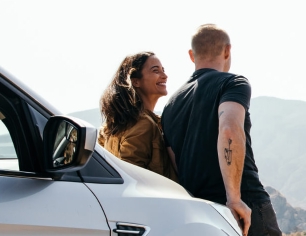 Quote car insurance online or give us a call