Life insurance for new parents
A life insurance policy helps to cover end-of-life expenses, outstanding debts, and other potential expenses to protect your family financially if the unexpected were to happen. If you're planning to start a family soon, make sure you secure a life insurance policy before your new bundle of joy arrives. There are many life insurance options for young parents, but a term life policy may be the best due to its affordability and the amount of coverage it offers.
4 min to read
How long before having a baby should I get life insurance?
You'll want your life insurance policy to take effect before your baby is born, which means you should purchase it at least four to six weeks prior to your baby's due date to allow sufficient time for the underwriting process.
If you can, it's wise to invest in life insurance right now — regardless of when you're expecting your first child. There are many smart reasons to do so, including peace of mind for your family in the event something were to happen so that they can cover both daily expenses and future expenses. It's also important to note that the cost of life insurance increases as you get older, so the younger and healthier you are when applying for a life insurance policy, the more affordable it will be.
Another practical reason to invest in life insurance before starting a family is that you could avoid higher rates due to common pregnancy-induced conditions, such as gestational diabetes, in which up to 1 in 10 pregnancies in the US are affected. Since most life insurance policies require a medical exam, unexpected conditions resulting from pregnancy could affect your policy rate.
What is the best life insurance policy for new parents to start with?
There are two types of life insurance to consider: permanent life and term life. You may already have a permanent life policy, but if you're going to become a new parent, it may not necessarily be the best option — or enough to provide for your child.
Pro tip:
Stay-at-home parents need life insurance too. There are costs associated with everything they do, including childcare, that you would need covered if they were no longer around.
Permanent life insurance
Permanent life insurance lasts for the entirety of your life, provided you continue to pay your premiums, and consists of two types of polices: whole life and universal life. Due to its permanence and additional benefits, like a cash value, permanent life insurance tends to be more expensive than term life. While both are used primarily for burial costs and end-of-life expenses, term life insurance may not always be enough and coverage may end prematurely, requiring a new policy.
Term life insurance
A more affordable option for new parents is term life insurance. This type of policy lasts for a specific number of years and has an expiration date. It doesn't offer additional benefits and acts solely as a life insurance policy, making it a frequent option for families just starting out.
Term life policies can have exponentially higher benefit amounts than whole life insurance policies for the same cost or less. If you want to secure enough benefits to raise your child as they grow, even if you aren't around, term life insurance is the most practical and affordable option.
A 20-year term life insurance policy can cover your child's needs until they turn 18. By the time the policy expires, your child may be living on their own, which means you may no longer need the additional coverage.
How much life insurance do new parents need?
The amount of life insurance needed is determined by various factors. For instance, if you were to die today, how much money would your spouse need to replace your income? If you aren't married, how much money would your baby's next-of-kin need to care for the child?
The average cost to raise a child through the age of 17 is $233,610 — and that's not factoring in college-related expenses. Also, keep in mind that these estimates are for a single child, so you'll need a higher-value policy if you're planning to have more than one child. Speak with an insurance agent or representative to help you determine how much life insurance you need to provide for your family's future, taking into account any end-of-life expenses you may have.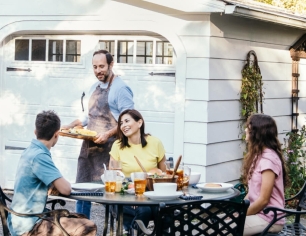 Get a free life insurance quote online in minutes