Minivan vs. SUV: Which is better?
Minivans and SUVs have more interior room and cargo space than a typical sedan, making it easier and more comfortable for you, your passengers, and your belongings to get on the road. But there are some key differences between the two. Both types of vehicles have their pros and cons, and the one that's right for you depends on how you plan to use it, your budget, and your style preferences.
3 min to read
Minivan vs. SUV: What's the difference?
SUVs and minivans are popular options for families who want larger vehicles with lots of room for people and cargo. While both types of vehicles provide the extra space many look for, there are some differences to note. Here are a few key categories for a minivan vs. SUV comparison and where each vehicle type excels:
Cargo space
Winner: Minivan. Minivans typically offer more cargo space than SUVs — even after you fold down the third row of seats in both types of vehicles. If you're looking for a car that maximizes interior storage space for those long road trips, a minivan may be a better option.
Door configuration
Winner: Minivan. Most minivans have sliding rear doors, making it easier for backseat passengers to get in and out of tight spaces and reducing the risk that kids will hit another car trying to get in and out. SUVs have rear doors that swing open, making it more challenging to get in and out of tight spaces.
Interior space
Winner: Minivan. Generally, minivans are roomier than SUVs, offering more legroom in the back row than a comparable SUV.
Off-roading capability
Winner: SUV. With low-ground clearance, minivans are meant for driving on paved roads. Many SUVs are suited for more rugged terrain. They have higher ground clearance, and many models have all-wheel and four-wheel-drive options.
Seat & ride height
Winner: Minivan. Minivans typically have a lower seat and ride height, making it easier for kids or people with mobility challenges to get in and out. With some SUVs, you may need to step onto a running board to get in and out.
Towing capacity
Winner: SUV. Minivans can handle light to moderate loads, but if you're looking for a more robust towing capacity, an SUV may be a better bet.
Minivan vs. SUV: Gas mileage
Minivans aren't known for having the best gas mileage, but fuel efficiency for both minivans and SUVs often comes down to the size of the vehicle, as well as its powertrain. If you want a minivan or SUV with better gas mileage, then a hybrid model may be your best bet.
Minivan vs. SUV: Safety
Many minivans and SUVs offer advanced safety features, such as backup cameras, collision warnings, and automatic emergency braking. Minivans and mid-sized SUVs received similar safety ratings from the Insurance Institute for Highway Safety (IIHS) in 2021. Before buying a new car, it's important to do your research to make sure you're comfortable with its safety profile.
Check out Progressive's Car Shopping service by TrueCar to shop an inventory of new and used cars.
SUV vs. minivan: Which one is right for you?
To decide which type of vehicle is right for you, consider your lifestyle, budget and style.
Lifestyle
How you plan to use your vehicle is one of the most important factors to consider. If you plan to go off-roading or need the ability to tow heavy loads, an SUV is probably a better choice. But if you want to fit your luggage and passengers into a vehicle comfortably, a minivan is perhaps the way to go.
Budget
While the final amount you'll pay for any vehicle depends on the trim level, options you include, supply and demand, and price negotiations, the starting prices for minivans are typically less than starting prices for SUVs.
Style
If your vehicle's looks are important to you, you'll need to decide what design you like best. SUVs generally have a sportier or sleekier design compared to minivans.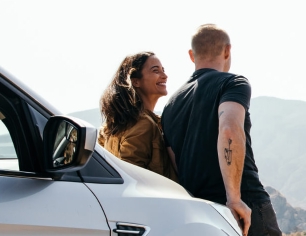 Quote car insurance online or give us a call