Is motorcycle emissions testing required?
In most instances, motorcycles do not need to pass a motorcycle emissions test. Depending on the make and model of your motorcycle, it might be required to pass a test, but it's unlikely. Most states do not require motorcycles to undergo the same level of motorcycle emissions testing as cars. Many specifically exempt motorcycles from these requirements.
2 min to read
Do motorcycles pollute more than cars?
The average motorcycle gets anywhere from 35 to 40 miles per gallon, putting them on par with many hybrid cars on the road today. However, greater fuel efficiency doesn't translate to less pollution. Although motorcycle engines emit less carbon dioxide than car engines, they emit more nitrogen oxide. The reason is that for years, motorcycle engines didn't have a catalytic converter, a common car part. The catalytic converter reduces the number of pollutants released into the air.
New motorcycles tend to have a smaller catalytic converter installed in their exhaust systems as a response to concerns over motorcycle emissions. Not all bikes have a converter installed, however.
What states require motorcycle emissions tests?
California was the first state to require motorcycle emissions testing, with strict standards based on the U.S. Environmental Protection Agency (US EPA) guidelines. According to the California Air and Resources Board, motorcycles or motorcycle engines produced on or after January 1, 1978 must undergo emissions testing in California. The state has required any motorcycle with an engine larger than 50cc to have emissions testing since 1980.
Get the right coverage for your motorcycle with Progressive
Current Progressive customers
You can log in or call 1-866-749-7436 to check on your coverages.
New Progressive customers
Quote motorcycle insurance online or call 1-866-749-7436 to insure your motorcycle.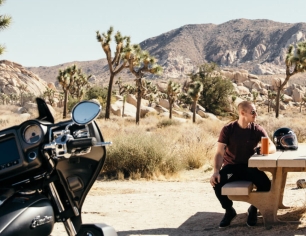 Enjoy life on two wheels with motorcycle insurance from Progressive