What is motorcycle insurance?
Motorcycle insurance provides coverage if your bike, scooter, moped, ATV, or UTV is damaged or stolen as well as financial protection if you're responsible for someone else's injuries or damages while riding.
2 min to read
Is motorcycle insurance required?
Motorcycle insurance is mandated in nearly every state. If you ride without insurance, you could get a fine, have your license revoked, be sued, or even land in jail. While most states require a minimum amount of motorcycle liability coverage, motorcycle comprehensive coverage and motorcycle collision coverage are optional unless you're financing your bike, in which case your financing company may require those coverages. Even when motorcycle insurance isn't required, carrying a policy can be critical in protecting your bike against damages and your assets if you're liable in an accident.
Learn more about motorcycle insurance requirements by state.
How does motorcycle insurance work?
Whether you buy motorcycle insurance on your own or from an agent, you'll be asked some basic questions about you, your bike, and your desired coverages. All these factors will affect your motorcycle insurance cost. If your bike is damaged or stolen, or you're in a motorcycle accident and liable for another person's injuries or damages, you can file a claim with your insurer. If your claim is covered, your insurance will pay for losses or injuries up to your coverage limits. How much your insurance provider covers depends on the limits you choose when buying your policy.
Learn more about what motorcycle insurance covers.
How is the cost of motorcycle insurance determined?
Insurers will consider a variety of factors, and pricing all comes down to risk. Here are some of the factors that will determine your price:
Riding history
Type of bike
Age
Location
Coverage selection
See more motorcycle insurance cost factors.
Save on motorcycle insurance with Progressive
Go online
We'll ask easy questions, then you choose coverages.
Quote motorcycle insurance online
Call us
Talk to a licensed representative who can help you choose the right coverage for you.
Call 1-866-749-7436
Talk to an agent
If you want local advice, we'll connect you with a licensed, independent agent near you.
Find an agent online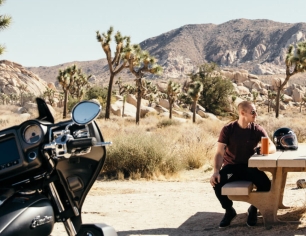 Enjoy life on two wheels with motorcycle insurance from Progressive