What is a salvage title motorcycle?
When a motorcycle has a salvage title, the motorcycle sustained so much damage that it's not worth repairing. States define "not worth repairing" differently, but it's usually a percentage of the vehicle's value before it was damaged. Some states require the insurance company to deem the motorcycle a total loss.
3 min to read
How to get a salvage title for a motorcycle
The first step in getting a salvage title for a motorcycle is meeting the state's requirements to apply for a motorcycle salvage title. The requirements for getting a salvage title vary by state. They usually define the age of the vehicle if your motorcycle is a total loss, and how expensive a buyer might consider the repairs to be if you compared them to the vehicle's pre-accident value.
If your bike meets your state's definition for a salvage title motorcycle, you'll need to apply for a salvage certificate of title. This title is a legal ownership document indicating the bike's status as salvage. In some states, the Department of Motor Vehicles (DMV) location does not process salvage requests, so check with your state DMV before filling out the application for a motorcycle with a salvage title.
You'll also need to pay the necessary fees to receive your salvage certificate of title. These fees also vary by state but are often less expensive than titling and registering a bike for use on the road.
Can you register a motorcycle with a salvage title?
Not usually. Most states define salvage title motorcycles as being too damaged to be roadworthy. You must rebuild them before they can be registered. If you want to rebuild a salvage title motorcycle, you'll have to make repairs and then have the bike inspected. Before beginning the process, check your state's requirements for rebuilt titles and salvage title motorcycle inspections. Some states require you to document the rebuild process with receipts and other paperwork, so it helps to know what will be required before you start.
What can I do with a salvage title motorcycle?
Your main options are to rebuild it or scrap it for parts if you have a motorcycle with a salvage title. Depending on the details of the salvage title, you may have more limited options. For instance, some salvage titles describe what happened to the bike. Some states divide totaled bikes into those that you can restore and those that can't. If your bike has a "non-repairable" or "junk motorcycle" designation, then your only option is to scrap it yourself or sell it to a salvage yard that will scrap it. Learn more about buying and selling salvage motorcycles.
Does a salvage title motorcycle need insurance?
It depends on what you mean by salvage title motorcycle. A motorcycle with a salvage certificate of title can't be registered or driven legally and thus can't be insured. A motorcycle with a rebuilt title can be registered and may need insurance depending on state requirements. Learn more about how insurance works for salvage vehicles.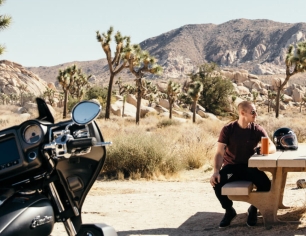 Enjoy life on two wheels with motorcycle insurance from Progressive