What is a totaled motorcycle?
A motorcycle is considered totaled when it needs repairs that exceed its actual cash value. Actual cash value is determined based on a mix of authoritative estimates, such as valuations listed in independent vehicle value guides and current prices for similar motorcycles in your area. The actual cash value can also account for depreciation and local supply and demand, among other factors.
3 min to read
Why do insurance companies total motorcycles with little damage?
When a bike is deemed a total loss, the insurance company that pays you is only responsible for what it agreed to pay in the policy, which is usually the bike's actual cash value, regardless of how much you owe on it or believe it to be worth. Insurance companies account for the amount of money the bike would sell for on the open market, which doesn't always correspond to how much you've spent on the motorcycle or accessories.
Most new motorcycles lose around 19-27% of their value in the first two years, with a 5% decrease happening as soon as you drive it off the lot. Bikes depreciate more slowly as they get older, but their value continues to drop as they age and rack up mileage. Accessories generally don't add their full purchase cost to the bike's resale value either.
The result is that your motorcycle's actual cash value is likely less than what you've spent on it. Thus, totaling a motorcycle takes less damage than you'd guess given depreciation and age factors.
Insurance coverages that can help with a totaled motorcycle
When you purchase motorcycle insurance, several coverages can help when your bike is totaled. Comprehensive coverage on your motorcycle insurance policy can pay the value of your bike, minus your deductible, if your bike was totaled from an event beyond your control, such as hitting an animal or a weather-related incident. Collision coverage can pay the value of your bike, minus your deductible, if your motorcycle was totaled in an accident with another vehicle or object, such as a tree or guardrail. If you owe more on your motorcycle loan than what your bike was worth, gap insurance can pay off the loan on your totaled motorcycle.
Progressive also offers total loss coverage if your bike is no more than one model year old on a new policy. With this coverage, you can receive the full manufacturer's suggested retail price for a brand-new bike, minus your policy's deductible, if your bike is totaled.
Example:Suppose you paid $20,000 for a new bike, but, due to depreciation, it's now valued at $15,000. If you total your motorcycle in a covered loss and have total loss coverage on your policy, we'll give you the manufacturer's suggested retail price of a brand-new bike of the same model, even if the amount is more than the $20,000 you originally paid.
What to do with a totaled motorcycle
When your motorcycle is totaled, or considered a junk motorcycle, you have options for how to dispose of it. The easiest option is to transfer the title to your insurance company and let them handle the disposal. You can also opt to keep the totaled motorcycle, but that can result in a lower payout since your insurance company may reduce payment by the expected value of the salvage. If you opt to retain the totaled motorcycle, you may be able to sell it to a motorcycle salvage yard or to a private party, scrap it for parts, donate it, or rebuild it depending on your interest, time, and skills.
How to get the right insurance coverage for your motorcycle with Progressive
Go online
We'll ask easy questions, then you choose coverages.
Quote motorcycle insurance online
Call us
Talk to a licensed representative who can help you choose the right coverage for you.
Call 1-866-749-7436
Talk to an agent
If you want local advice, we'll connect you with a licensed, independent agent near you.
Find an agent online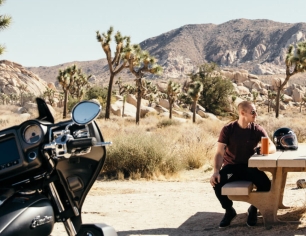 Enjoy life on two wheels with motorcycle insurance from Progressive