What does motorcycle insurance cover?
Motorcycle insurance covers damage to your motorcycle resulting from a covered incident if you carry comprehensive and collision coverages on your policy. While physical damage coverages are optional if you don't finance your bike, all motorcycle policies will include liability coverage, which safeguards you if you're liable for another motorist's injuries or damages. Motorcycle insurers may also offer additional coverages such as carried contents, custom parts and equipment, and enhanced injury protection.
4 min to read
What are the typical motorcycle insurance coverages?
Here are the standard motorcycle insurance coverages offered by most motorcycle insurance companies:
Liability
Liability coverage for motorcycles is mandatory in nearly every state and can pay for damages to other vehicles or objects, injuries to motorists, and lawsuits if you're liable due to a covered accident.
Comprehensive
Comprehensive coverage for motorcycles is typically required by your lender or leasing company if you're financing or leasing your bike and protects against events beyond your control, including theft, vandalism, windshield damage, fire, hitting an animal, and acts of nature. There is usually a deductible on comprehensive coverage.
Collision
Collision coverage for motorcycles is also usually required by your lender and can pay for damages resulting from a crash with another vehicle or object, regardless of who's at fault, and minus your policy's deductible.
Uninsured/underinsured motorist
Uninsured motorist (UM) and underinsured motorist (UIM) coverages may pay to repair or replace your bike, up to your policy's limits, if your motorcycle is damaged by a motorist with no insurance or without enough coverage. UM and UIM coverages also cover your injuries, up to the limits of your policy, if you're hit by an uninsured or underinsured motorist. Learn more about uninsured motorist coverage for motorcycles.
Medical payments
This coverage pays for medical expenses for you and your passengers if you're in an accident, regardless of fault. Learn more about how motorcycle insurance covers medical bills.
Motorcycle insurance coverages and features automatically added on your policy from Progressive include accessories and custom parts/equipment, original equipment manufacturer parts and accident forgiveness.
Extra coverages
Progressive provides extra motorcycle insurance coverages such as total loss coverage, carried contents and personal belongings, full value replacement parts and more.
See all motorcycle insurance coverages at Progressive.
What doesn't motorcycle insurance cover?
Motorcycle insurance policies won't cover the following:
Track days or competitions: If you ride your bike in races, timed events, speed tests, or on a track, you're typically excluded from coverage.
Commercial use: If you use your motorcycle for business purposes, you may not be covered while on the job. If you regularly use your bike for work (outside of commuting), consider a commercial vehicle insurance policy.
Wear and tear: Depreciation of your bike is typically not covered by motorcycle insurance.
Learn more about how motorcycle insurance works and how much motorcycle insurance costs.
Customize your motorcycle insurance coverages
Online
Answer easy questions, choose your coverages, and get the protection you need.
Get a motorcycle insurance quote
Call a rep
Speak with a licensed representative who will help you through the entire process.
Call 1-866-749-7436
Through an agent
Get expert advice from a licensed independent agent near you.
Find an agent online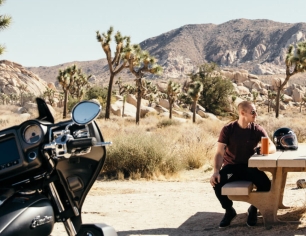 Enjoy life on two wheels with motorcycle insurance from Progressive