Does motorcycle insurance cover medical bills?
It depends on the coverages you have. Basic liability insurance — the coverage required by law in most states — doesn't cover damages to you or your bike. However, other coverages, like medical payments coverage and personal injury protection, can pay for medical bills you incur due to an accident, even if you were at fault. If you have health insurance, these extra motorcycle coverages can offer another layer of protection—for both you and your wallet.
4 min to read
Does Medicare cover motorcycle accidents?
Typically, yes. Medicare and Medicaid generally cover motorcycle injuries like private health insurance plans. However, you may be subject to additional co-pays, deductibles, or payment limits.
How is medical payments coverage vs. personal injury protection different for motorcycle insurance?
Both medical payments coverage (Med Pay) and personal injury protection (PIP) can pay for medical bills that result from a crash on your motorcycle, regardless of who was responsible for the accident. Med Pay only covers medical bills, while PIP can also pay for other financial losses, such as lost wages if you can't work, require at-home care, and more. Medical payments coverage is available in virtually all states as an optional coverage. On the other hand, PIP is required in some states, available as an option in other states, and not available at all in the remaining states.
It's important to note that states sometimes have different requirements for cars and motorcycles, so be sure to check your state's requirements. Learn more about motorcycle insurance coverages and what's required and motorcycle insurance requirements by state.
Does health insurance cover motorcycle accident injuries?
Health insurance can, and often does, cover motorcycle injuries, but it doesn't have to. Some policies specifically exempt motorcycle injuries from coverage. Even if your health insurance covers motorcycle accident injuries, adding medical payments coverage or PIP could help with coverage. Depending on the details of your health insurance plan, co-pays and deductibles can add up quickly, especially if you need to make separate visits to see a doctor or to see specialists.
Not all health insurance plans cover longer-term care like physical therapy, either. Without medical coverage through your motorcycle insurance policy, you may have to pay hundreds or thousands of dollars out of pocket for care. If you end up using your health insurance as your primary payment method for your motorcycle injuries, medical payments coverage and PIP may even be able to pay your co-pays, deductibles, or other costs associated with the accident.
How are medical bills for a motorcycle accident covered?
It depends on the state and your situation. For instance, in states where PIP is required, each person's insurance pays their medical bills through PIP coverage. In other states, you may decide to establish who is responsible for the accident before you start making claims (if you want to get the other party to pay for your damages). You may also choose to make a claim through your own medical payments coverage or PIP coverage to get a faster response.
If you have expensive health bills and other health insurance, you may want to file a claim on your health insurance plan as well as your medical payments coverage or PIP. Medical expense coverages from your motorcycle policy can also cover co-pays and deductibles that you have to pay through your health insurance policy.
Example:You have an accident and require a $10,000 operation. Your health insurance can cover the operation, but you'll have to pay your $1,000 deductible first. If you have $2,500 in medical payments coverage, you may be able to use this to cover the health insurance deductible and pay nothing out of pocket.
Do I need medical payments coverage on my motorcycle insurance?
Motorcycle injuries are often serious, especially if you don't wear a helmet. If your health insurance has a high yearly deductible, expensive co-pays, or doesn't cover motorcycle injuries, you may want to consider adding Med Pay or PIP. Even if your health insurance plan offers good coverage and low costs for motorcycle injuries, medical bills coverage through your motorcycle insurance can extend your benefits. In the case of PIP, it can cover non-medical expenses like lost wages or increased childcare that result from the accident.
If you frequently ride with a passenger, Med Pay or PIP can be especially crucial since they may cover the person riding with you, too. That can help them get the care they need without leaving you responsible for paying for their injuries out of pocket.
Get the right motorcycle insurance coverage from Progressive
New Progressive customers
Call 1-866-749-7436 or quote motorcycle insurance online and we can help you choose the right coverage for your needs.
Current Progressive customers
Log in to your policy or call us at 1-866-749-7436 and make changes to your policy if you need to.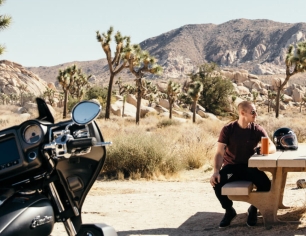 Enjoy life on two wheels with motorcycle insurance from Progressive