Motorcycle insurance for first-time riders
Before your first ride, you must make sure you have proper motorcycle insurance coverage to protect yourself and others in case of a crash. Even if you only have a temporary permit, nearly every state requires liability coverage for motorcyclists. There are optional coverages like collision and comprehensive to consider, and discounts to lower your cost.
4 min to read
How do I get motorcycle insurance as a new rider?
Before legally riding your motorcycle on the road, you must obtain your state's minimum required liability coverage. You can start by getting a free motorcycle insurance quote online through Progressive. You'll need to provide your name and address, the type of motorcycle you drive, the names and ages of others who might drive the motorcycle, and other relevant information.
After you've provided this information, Progressive can offer you a quote, and you can apply online for coverage from the #1 motorcycle insurer.
What kind of motorcycle coverages do I need as a first-time rider?
Most states require liability coverage for motorcyclists. This type of coverage pays for damages you cause to another person's property and injuries you cause to others while riding, up to your limits. Your motorcycle liability insurance is basic and affordable coverage. Find out your state's motorcycle insurance requirements for minimum liability limits.
While not required by law, your lender might require comprehensive and collision coverage if you have financed your motorcycle. Once you pay off your loan, you can choose to drop comprehensive and collision.
Comprehensive coverage
Covers your motorcycle for damage from unexpected dangers like fire, theft, vandalism, or if you collide with an animal. Comprehensive coverage for your motorcycle can cover damages up to your policy's limit, minus the deductible.
Collision coverage
Covers repairs to your bike caused by a collision with another vehicle, regardless of fault. Motorcycle collision coverage can cover the repairs if you collide with another vehicle or lay your bike down to avoid a crash. It may even cover the replacement of your motorcycle up to your limit and minus your deductible.
Medical payments coverage
Medical payments coverage helps pay for medical bills for you or your passengers if you're involved in an accident, regardless of who's at fault.
Uninsured motorist coverage
If you're involved in an accident with someone who doesn't have sufficient insurance to cover the damages, motorcycle uninsured motorist coverage may help cover your costs, including medical bills, damage to your motorcycle, and even lost wages due to injury. Learn more about these and other Progressive motorcycle insurance coverages available.
How much does motorcycle insurance for first-time riders cost?
The cost of your motorcycle insurance is determined by several factors, including your location, age, type of bike, riding history and coverage selections.
If you choose liability-only coverage with Progressive, your first-time rider motorcycle insurance might cost as little as $75 per year.* However, your premium can depend heavily on where you live. Certain states typically have higher costs for motorcycle insurance than other states.
Pro tip:
Avoid accidents to stay safe and keep your insurance premium down. As a new rider, you should have a clean riding history, but your premium could increase when it's time to renew your insurance if you're in a wreck.
How to get cheap motorcycle insurance for new riders
Maintaining a safe driving record keeps costs lower. Progressive offers a range of motorcycle insurance discounts that can help you save money on your policy. A few of these discounts, which may vary by state, include:
Quote in advance
Multi-policy
Association member
Motorcycle endorsement
Safety course
Switch or transfer from another company
Responsible driver
Pay in full
Pay on time
Automatic bill-pay
Progressive also helps keep costs down through benefits like small accident forgiveness in most states. If you're involved in an accident and have a claim of $500 or less, your rate won't increase. You can also reduce your deductible by 25% for every claim-free period on your record — even down to $0.†
Get motorcycle insurance before you ride
Online
Answer easy questions, choose your coverages, and get the protection you need.
Get a motorcycle insurance quote
Call a rep
Speak with a licensed representative who will help you through the entire process.
Call 1-866-749-7436
Through an agent
Get expert advice from a licensed independent agent near you.
Find an agent online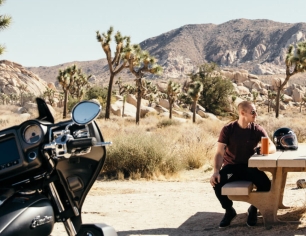 Enjoy life on two wheels with motorcycle insurance from Progressive