When should you drop comprehensive and collision coverage?
Paying for comprehensive and collision — the coverages that many people mean when they say "full coverage" — may not be worth it if your car's value is minimal and your policy includes a high deductible. Usually, you have to have comprehensive and collision on a financed car because most lenders require it. However, if your vehicle is paid in full, you have the option to drop the coverages. That means you'll pay for any vehicle damage out of your own pocket if you're at fault in an accident or your car is damaged from an incident beyond your control.
2 min to read
When to drop collision coverage
If your vehicle is paid off, there are only a few instances that justify dropping collision coverage:
Your vehicle's value is less than a few thousand dollars: If your car holds minimal value, collision coverage may not be worth carrying. This is especially true when a large car insurance deductible is involved. For instance, if your car is worth $2,000 and your policy has a deductible of $1,000, your car insurance is only able to pay out up to $1,000 on a collision claim.
Your vehicle isn't currently being driven: Collision coverage isn't necessary if you never take the car out on the road. While your car is garaged or kept in storage, comprehensive coverage can protect your vehicle against theft, vandalism, fire, and weather-related issues such as water damage. Learn more about how car insurance covers theft.
Your vehicle is insured on another policy: You won't need collision coverage if your car is covered on a family member's existing policy that includes collision coverage. Keep in mind, your vehicle can only be insured on a family member's policy if it's kept overnight at their address.
When to drop comprehensive coverage
While comprehensive coverage is typically more affordable than collision coverage, there may be instances when it's not worth carrying, including:
Your vehicle holds a low value: As with collision, consider dropping comprehensive coverage if your vehicle's market value is lower than a few thousand dollars. Figure in your deductible as well and the potential insurance payout may not be worth the price of the coverage.
You're covered on another policy: If your family member insures your vehicle on their policy and comprehensive is an included coverage, there's no sense in paying for it twice. Note that your car can only be covered on a family member's policy if it's garaged at their residence.
Do I need comprehensive insurance on an old car?
Unless you're buying a classic car and a particularly sought-after one at that — older vehicles don't often pass the "vehicle value" rule of thumb for when to drop comprehensive coverage. If you've thought about your car's residual value and you're still unsure, consider the following questions:
Is your car paid off? Even if your car is old, your lender may require you to keep your comprehensive coverage until you've finished making payments.
How common are covered events in your area? Comprehensive coverage protects you from events outside your control like natural disasters or collisions with animals. These risks vary considerably from one area to another and might affect your decision about when to drop comprehensive coverage, especially on an older vehicle.
Learn more about the difference between comprehensive vs. collision coverage.
Do you have to have comprehensive and collision coverage on a financed car?
Lenders and lease companies want to protect their interest in your vehicle, so they typically require you to carry comprehensive and collision coverage. Learn more about requirements for car insurance on leased vehicles.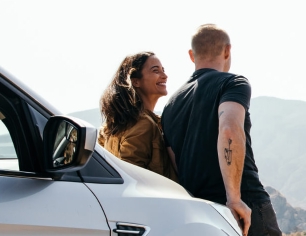 Quote car insurance online or give us a call