A guide to buying classic cars
Buying a classic car involves more than just the car's price and its current mechanical condition. As you begin looking for the classic car of your dreams, you will need to know where to look for classic cars, how to find out an older car's value, identify any replacement parts it has, and research its history. These steps will help you narrow down your options and make a fair offer when buying a vintage, antique, or classic car.
5 min to read
How to buy a classic car
Once you've thought about whether to buy a classic car or not, you can follow these steps to start your search, learn more about the car you find, make a fair offer, and purchase it.
1. Learn where to buy classic cars
Knowing where to find classic cars is key, since you're typically going to have to look for them in places besides the local dealership. The best ways to find classic cars are:
Private sellers:

Buying a car from a private owner may give you the most flexibility on price, since they don't have to account for the overhead or pricing restrictions that auctions and dealers do. Start by checking the classified ads of local newspapers, classic car publications, classic car clubs, as well as sites like Facebook Marketplace, Craigslist, and eBay. Buying from a private owner also means you can test drive the vehicle, and the owner should allow you to have a mechanic inspect the car.

On-site auctions:

Traditional auction houses are a good place to find a particular make and model but bear in mind that their cars may be more sought after (and more expensive). You should have a chance to inspect the vehicle before bidding. If you win your bid, you'll pay the bidding price, plus a fee to the auction house.

Online auction houses:

Online auction houses give potential buyers a much wider selection to choose from. You typically won't have a chance to inspect the car you bid on, but the auction house should have documentation on its history and condition. As with on-site auctions, you'll pay the winning bid plus a fee to the auction house. You may also have to pay for shipping if the auction house doesn't provide that service, or if you can't pick it up yourself. Learn more about buying a car from an online auction.

Online auctions on public websites:

Classic cars can also be auctioned on general auction sites. Since they're not specialized, these sites may not inspect or verify the vehicles they're selling. While you may be able to find classic cars at lower prices, it might be much harder to verify their validity and condition. It's also likely that you'll have to handle all of the ownership transfer paperwork and shipping.

Classic car dealers:

Classic car dealers sell vehicles on consignment, which means they sell them on behalf of the actual owners in exchange for a commission. A dealer will typically have less room for negotiating the price, given their overhead costs. However, you can typically test drive the car and may also have a mechanic inspect it.
Pro tip:
If the dealer doesn't know much about the history of the car, ask if you're allowed to contact the car's owner. Talking with a classic's owner can help you uncover important details about the car's condition, parts, and story.
2. Research the classic car's value
Scarcity, demand, and restoration status play essential roles in a classic car's value. The rarer and more sought-after a vehicle is, the higher its market value will be. Find out how classic car valuation works so you can make informed offers when you're shopping. Online tools like the Hagerty Valuation Tool can help you make educated choices while you're in negotiations.
3. Find out if the car has original or replacement parts
Original and replacement parts can significantly affect an antique car's price and appeal. Classic cars can be divided into three general categories based on how they have been maintained or restored.
Original
Original classic cars have been preserved with their original factory equipment and minimal (if any) repairs.
Restored
Restored antique cars have been repaired and returned to their original condition using replacement parts. In some cases, the parts are original factory parts — new parts from the car's era that were never sold or installed. Restored cars can also have replica parts made to match the original specs.
Resto-mod
These cars are classic in appearance but have been modernized with non-replica parts or more. They might include classics upgraded with modern engines or other parts to meet environmental or safety regulations.
Many collectors prize cars that contain original parts, which can dramatically increase the price. On the other hand, if you love the look of classic cars but want a greater sense of security and reliability, you might prefer a classic car with modernized parts and a lower price point.
Regardless of the status of the classic car you want to buy, ask the seller to let you get a mechanic's perspective on the vehicle before you buy it. This can help you get an accurate picture of the car's condition. A mechanic who specializes in classics may even have some insight into the car's history and parts. Learn more about classic car maintenance and storage.
4. Research the classic car's past
Just like you would when looking at used cars, buying a classic car should involve reading up on the car's history to discover known issues, safety concerns, and the ease and cost of repairs. The current owner should provide maintenance and pertinent information about their personal history with the car, but you may need to do some digging to find out more about the car's past.
Start by searching the car's vehicle identification number (VIN) to find out the locations where the car was registered. An internet search for the classic car's VIN history may also turn up old ads for private party sales. Note that VIN information was only standardized in the early 1980s, and identification numbers before then had varying formats and lengths.
Also, find all the locations the VIN could have been stamped — possibly the engine block, transmission, rear axle, and many other internal components — and check if it's there. If the part's VIN matches the car's, it's an original part. Determining which parts are original will be more difficult for cars made before the VIN was introduced in 1954, so look for serial numbers, too, and research any you find.
You can also contact the manufacturer (if they're still in business) or reach out to local and national car clubs and historical societies. Members may have connections to or even firsthand knowledge of the vehicle.
5. Make your offer for buying the classic car
Buying a classic car is a negotiation, just like any other car purchase. But unlike other used cars, which typically depreciate over time, a classic car can have a much higher value as it ages. Base your offer on the research you've done regarding the vehicle's value and parts. Come prepared with any documentation you've gathered so you can reference it while negotiating. Be prepared to work with the seller until you reach a price you both agree on based on the car's value and condition. If you can't agree, consider shopping around some more.
6. Finalize your classic car purchase
If you're buying a classic car from an individual, follow the steps for buying a used car from a private seller. You'll need to find out which purchase documents are required by your BMV or DMV — usually a car purchase agreement and mileage statement — so you can transfer the title and register it. A dealer will have the necessary car sale documents ready for you to sign. You should know ahead of time the documents required for financing your car purchase so you're ready to set up a payment plan. Or you can pay in full via money order or cashier's check.
How to insure your classic car
Online
Get a classic car insurance quote and choose your coverages.
Call a rep
Call 1-888-534-8980 and speak with a representative from Progressive Classic Car by Hagerty.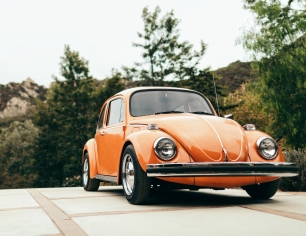 Get a free quote for classic car insurance today