Classic cars vs. modern cars: Which should you get?
When comparing classic old cars vs. new ones, it comes down to whether you prioritize safety and technology or investing in a collectible. Today's new cars are significantly safer than old cars, they're owned longer than they used to be, and they require less (but potentially more complicated) maintenance. On the other hand, classic cars can provide the fulfillment of being able to work on your own car, become a collector, and purchase a vehicle that can appreciate over time if well-maintained.
3 min to read
What are the main differences between old cars and new cars?
Classic cars and modern cars have differences in their design, components, handling, and safety. Technologically, newer vehicles usually contain a central computer, sensors, and sophisticated systems. Modern engines are much smarter, smaller, more powerful, and more efficient than older ones.
Automotive safety improvements over the years have saved numerous lives. Seat belts started appearing in the 1960s. In the decades since, airbags, anti-lock braking systems (ABS), and better crumple zones that help protect occupants during a collision have become standard. Crash avoidance technology and driver alerts in modern cars also protect lives on the road. Newer vehicles also tend to absorb bumps, minimize noises, and offer adjustable driving positions for better access to the controls.
Since they lack automated features, classic cars have a more hands-on driving experience, and they can be easier to work on yourself. And while newer cars will depreciate with age, classic car values tend to appreciate due to supply and demand, especially for well-maintained ones. Classic cars driven daily will need standard auto insurance, but those only driven on occasion may qualify for classic car insurance, which tends to provide more coverage for less money. Learn how classic car insurance works.
Are old cars stronger than new cars?
Although newer vehicles are safer than classic cars, there's an ongoing debate over durability. Classic car proponents argue that older cars were designed to last a long time with parts that can be fixed or replaced fairly easily and inexpensively. New cars are filled with electronics requiring special expertise and diagnostic equipment when they malfunction.
On the flip side, a 2021 J.D. Power vehicle dependability study tested 177 different problems and found that cars and trucks have grown more reliable over the past decade. Most people also started keeping their cars for longer in the 2000s than in the 1990s.
Safety of old cars vs. new cars
Modern cars are safer than older ones, according to data from the National Highway Traffic Safety Administration (NHTSA). The federal agency found that seat belts, airbags, and crash avoidance technology significantly improve your chances of surviving a crash. Their research also shows that the highest percentage of people killed in crashes were in vehicles from 1984 and older.
Seat belt laws vary by state, and if seat belts didn't come installed in an older car (generally those made before 1965), the driver may not legally have to fit the vehicle with them. But seat belts and other safety features like airbags, electronic stability control, and lower anchors and tethers for children (LATCH) systems are mandatory in new cars.
Can a classic car be made safer?
While seat belts can usually be added, other effective modern safety components like crumple zone improvements and airbags generally can't be added to a classic car. But classic car drivers can take measures that might help lower their risks on the road. These steps include performing regular maintenance on the vehicle, making sure you have high-quality tires and brakes, investing in upgraded headlights, and limiting your drive time. Strengthening your car-handling abilities with advanced driving lessons is also an option.
Buying classic vs. modern cars
Buying a classic car, like buying a used car, can be more intensive than the steps to buy a new car. Finding a reliable classic car will require heavy research into the specific vehicles you consider. If safety is your first priority, buying a new car is likely a better fit. However, a classic car can be more than just a vehicle to get you around, especially if it's a collectible or second vehicle you want to spend your time restoring.
Learn more about if you should buy a classic car.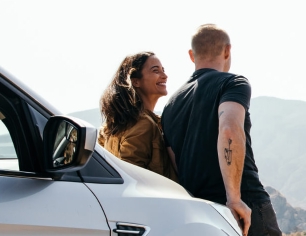 Quote car insurance online or give us a call