Daily driving a classic car: What to know
Before daily driving a classic car, you'll need to make sure the car is roadworthy with regular inspections and preventative maintenance. Certain steps might help lower your risks on the road, but a classic car may still carry significant safety concerns because of its age. If you drive your classic car every day, you'll need a standard auto insurance policy rather than classic car insurance.
3 min to read
Can a classic car be a daily driver?
Yes, it's possible to use a classic car as your daily driver. The car must be roadworthy if you're going to use it frequently, which usually means more maintenance and repair.
What kind of insurance do I need for my classic daily driver?
You'll need standard auto insurance for your daily driver classic car. That's because specialized classic car insurance typically requires the insured vehicle to not be driven daily.
When insuring a classic daily driver, consider getting comprehensive auto coverage and collision auto coverage on top of your state's required liability auto coverage to more fully protect the vehicle. You may also want to add optional roadside assistance coverage in case your classic breaks down on the road.
What are the pros and cons of a classic daily driver?
Whether you're new to buying classic cars or you're a collector, weigh the pros and cons of using a classic car as your daily driver.
Pros of driving a classic car daily
Driving a classic car daily can be a way to get more enjoyment out of your classic car

Classics made by Ford, GM, Mopar, and other manufacturers generally have parts you can easily find

Classics can be fairly easy to work on

Replacement parts and specialized maintenance information can often be found online

Regularly getting out on the road in your classic can create more opportunities to connect with fellow enthusiasts
Cons of driving a classic car daily
The safety risks of driving a classic car daily are higher, even with newer classics

Modern cars have better fuel economy, so expect to pay more for gas

If the environment is a concern for you, older cars emit more pollutants than newer ones

Using an older car for commuting could be uncomfortable and inconvenient, especially in extremely hot or cold weather

Daily use can put significant wear and tear on your classic car, potentially requiring more frequent ongoing maintenance while lowering the value and making it harder to sell your classic car

Wet, cold, and harsh road conditions can cause rusting and corrosion

Insuring your classic car with standard auto insurance will likely cost more than insuring it with classic car insurance, and your car might be covered only up to its depreciated value rather than an agreed or stated value typically used by classic car insurance
Is driving an old car every day safe?
The chances of fatal injuries in a collision increase with a car's age, according to research from the National Highway Traffic Safety Administration (NHTSA). Older cars lack safety features such as seat belts, airbags, crumple zones, electronic stability control, anti-lock braking systems (ABS), lower anchors and tethers for children (LATCH) systems, and crash avoidance technologies that save lives.
How to make a classic car safer for daily driving
Nothing can make the vehicle as safe to drive when compared to a modern car, but you can take steps to help reduce your day-to-day risks when making a classic car your daily driver:
If seat belts didn't come in your car, it's possible to add three-point aftermarket belts

Keep jumper cables and a fire extinguisher in your car

Do regular inspections and preventative maintenance

Replace any component that's not working correctly before you daily drive your classic car

Install high-quality headlights, brakes, and tires

Pay attention to the oil level and consistency since older cars go through it quickly

Keep the tires properly inflated and inspect them often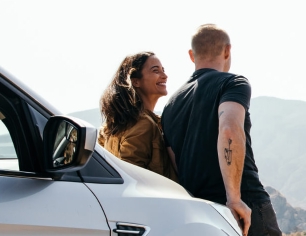 Quote car insurance online or give us a call