What is classic car insurance?
Classic car insurance protects your collectible vehicle through liability, comprehensive, collision, and other specialized coverages. Antique cars often maintain or increase in value, so classic car insurance typically covers yours up to an agreed value; regular car insurance might not provide as much coverage. A car is often considered classic when it's at least 10 years old and has historical interest, but classic car insurers have their own rules for accepting vehicles into their program. For instance, you may be subject to qualifiers like age, driving experience and record, and access to another vehicle.
7 min to read
How does classic car insurance work?
Classic car insurance works similarly to a regular auto policy, with the benefit of having coverage for your vehicle's agreed value and its specifications such as usage, storage, and more. Like with auto policies, you'll provide information about you and the classic vehicle you want to protect, and you'll select the coverages that match your usage and budget.
Classic car insurance covers you for property damage and bodily injury when you take your classic car to auto shows, tours, and collector vehicle functions, and for occasional pleasure driving.* If your vehicle gets damaged in a covered incident, your classic car insurer will pay for the repairs or losses up to the policy's limits. Deductible-free options are available on most policies.
Pro tip:
Classic car insurance is for more than just classic and collector cars. Vintage motorcycles, military vehicles, milk trucks, sports vehicles, kit cars, exotic cars, street rods, and all antique vehicles, including tractors, can also usually be insured.
Classic car requirements
To qualify for classic car insurance, you'll have to meet the insurer's requirements, which may or may not factor in the car's age. Hagerty doesn't have rules about how old a classic car has to be, but it does require the following of the vehicles it insures:
Usage: A classic vehicle can't be the car you use daily
Storage: It's preferred that your classic car be stored in a private garage, pole barn, or storage unit, but there may be considerations for carports, driveways, parking garages, and car hauling trailers†
Driver eligibility: In most states, only drivers who don't have serious infractions (alcohol-related offenses, reckless driving, excessive speed violations) from the last three years can obtain coverage**
Regular use vehicles: All drivers in your household must have a regular-use vehicle for daily driving, and the classic car insurance applicant must have and keep a regular auto policy
Do I need insurance on my classic car?
In short, yes. Auto insurance is mandated in all states except New Hampshire (New Hampshire still requires financial responsibility), so you'll need a minimum of liability coverage if you plan on taking your classic or collector car on the road. Driving without insurance can result in a fine or license suspension, so make sure you're covered even if you only take your classic for the occasional spin around the block. Moreover, it makes sense to safeguard all you've invested into your prized vehicle.
Classic car insurance vs. regular car insurance
A regular auto policy may provide some coverage for your classic car. Standard auto policies usually account for a car's age, depreciation, and mileage when determining its worth (and thus how much it's covered for). However, a classic car that has been restored or customized is likely worth more than its depreciated value. Look for a classic car insurer that will insure your vehicle for a value you both agree on.
With Progressive Classic Car by Hagerty, your vehicle is protected by Hagerty's Guaranteed Value® coverage,†† which pays you the vehicle's full agreed value in the event of a covered total loss, minus your deductible and/or salvage value.§ Standard auto policies would cover repairs using aftermarket parts. Classic car insurance allows for original parts if that's what your car had, so as not to compromise the integrity of your vehicle.
What does a classic car insurance policy cover?
Here's what's usually covered by a standard classic car policy:
Physical damage to your classic car:

Classic car insurance provides comprehensive and collision coverage, and it specializes in covering your vehicle's agreed value. Instead of sweating depreciation like you might with regular car insurance, you'll receive your car's insured value if your vehicle is stolen or totaled, minus any deductible. Plus, repairs using any original parts your car had before an accident (not cheaper aftermarket parts) can be covered.

Damages/injuries you cause to others:

Roadside assistance:

Classic car insurers usually offer the option to purchase full-service roadside programs featuring flatbed towing with soft straps. Hagerty's optional roadside assistance includes towing to the nearest repair facility, winching, battery jump-start, fuel delivery, lockouts, and flat tire changes.

Other optional coverages offered by Hagerty:

You can also add on coverage for spare parts and automotive tools, automobilia (collectible items on your vehicle), increasing limits while your vehicle is under construction, and — if your vehicle is totaled — the right to keep your salvaged classic while still receiving your Guaranteed Value® payout.††
Pro tip:
Most classic car insurers, including Hagerty, won't offer liability-only policies. And race and non-street-legal vehicles aren't typically eligible for liability coverage.
What isn't covered under classic car insurance?
Classic car insurance is designed for secondary vehicles; it's not meant to cover a car you drive for everyday use. If your classic or collector car is your primary ride, you'll need to cover it with a standard auto insurance policy.
What is agreed value for insurance?
Agreed value is the amount you and your insurer agree your car is worth before the policy is issued. Your vehicle will be evaluated, and you'll have the opportunity to tell the insurer about any customizations, restoration, and modifications you've made so they can be factored into the value. If there's a covered total loss, you'll receive that full value, minus any deductible.
Not sure what your classic vehicle is worth? Progressive Classic Car by Hagerty offers Hagerty Valuation Tools® to properly valuate your classic car, truck, or motorcycle. Learn more about what your classic car is worth.
How is classic car insurance priced?
Your rate for classic car insurance will depend on a set of factors and vary by insurer. With Progressive Classic Car by Hagerty, a few of the most significant variables that will affect your premium include:
Your vehicle's value: The age, model, and condition of your car will greatly influence how much you pay to insure it.
Location/storage of the vehicle: The state you live in will always affect insurance pricing, as will where you store the vehicle. Safeguarding your classic car in a locked garage or storage facility is favorable to your insurer, and likely to the price of your classic car insurance.
How you drive the vehicle: Classic car insurance isn't designed for everyday-use vehicles, and usage will affect pricing. However, Hagerty can provide coverage for a range of mileage options.
Discounts may also be available for classic car insurance. Depending on the insurer, you might qualify for one if you have multiple policies with the same company, insure more than one classic car, don't have any accidents or claims on your record from the past three years, complete a defensive driver class, install an anti-theft device in your car, or have comprehensive coverage.
How to get classic car insurance
Online
Get a classic car insurance quote and choose the coverages you want for your classic car.
Call a rep
Call 1-888-534-8980 and speak with a representative from Progressive Classic Car by Hagerty.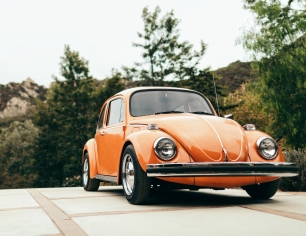 Get a free quote for classic car insurance today