What's the process for buying a car out of state?
Buying a car in another state is more complicated if you buy from a private seller instead of a dealer. A dealership usually takes care of all paperwork, but you'll have to do that yourself for a private sale. That means paying your home state sales tax, arranging the title transfer, getting a temporary registration or permit to drive the car in the other state, scheduling for it to be shipped, and other tasks.
4 min to read
How to buy a car out of state from a private seller
Buying a car out of state from a private seller requires you to personally verify and handle all the documentation requirements that a dealership would normally handle. In addition to the emissions, taxes, and temporary registration aspects described earlier, there are other tasks you'll need to complete.
Transfer the title: This establishes the change in ownership once you've purchased the car. And there's a chance a private party will have an outstanding loan on the car you're buying. In that case, you'll need to get their lender involved to ensure a smooth transfer. Learn more about transferring a car title.
Get a mechanic to inspect the vehicle: With a dealership, you're usually receiving some form of guarantee that they've inspected the car and it's in good working order. When you buy from a private party, it's up to you to do that due diligence. Learn more about getting a mechanic's perspective.
Check the vehicle's history: A dealership will usually provide a vehicle history report to you, which shows whether the car has been totaled in an accident, subject to flooding, or other unusual events. If a private party doesn't provide this for you, you'll want to verify the vehicle identification number (VIN) and get the report yourself.
If I buy a car in another state, where do I pay sales tax?
You generally pay the sales tax of the state where you'll register the car. Learn more about registering your car.
How to buy a car out of state from a dealer
Buying a car out of state from a dealer is very much the same as buying from a dealer in your home state. But there are a couple of differences you'll want to prepare for.
Emissions laws: Different states have different emissions laws, so if you find a car in another state that you like, ask the dealer to confirm that the car complies with your own state's laws. If they don't know for sure, you can ask them to send you a picture of the car's emissions plaque so you can check it yourself. (The plaque is usually affixed on the inside of the car hood or the driver's door jamb.)
Taxes: Ask whether the dealer will be collecting and paying your state's sales tax on your behalf. They usually do, and you'll want to be sure they give you documentation of that payment. Otherwise, you'll have to pay it when you register the car in your home state. If your state has a use tax, ask the dealer about paying that, too.
Temporary registration: If you're buying a car out of state and driving it home, verify with the dealer that they'll acquire a temporary registration for you in that other state. That way, you can drive the car home without getting pulled over by the police. In some states, a trip permit or transport permit serves a similar purpose.
Instead of buying a used car out of state and driving it home, you may decide to have it shipped to you instead. In that case, find out how much it'll cost. You'll want to ensure that the shipping cost doesn't wipe out any money you're saving by buying out of state. Learn more about what documents you need to buy a car from a dealership.
How to insure your new car with Progressive
Go online
We ask easy questions, and you customize your coverages.
Get a car insurance quote
Call a rep
Talk with a licensed representative who can guide you through the process.
Call 1-866-749-7436
Through an agent
Connect with an independent agent in your area.
Find an agent online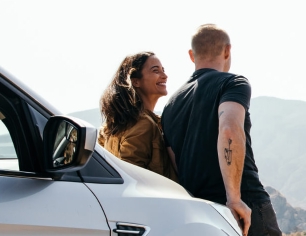 Quote car insurance online or give us a call