What to bring when buying a car
You'll need to bring your driver's license, proof of auto insurance, and financing documents (if applicable) to the dealership when buying a car. If you are financing, experts also recommend getting preapproved for a car loan, which requires current proof of residence, proof of income, and your credit score. For a trade-in, the dealership will ask for your vehicle's registration and the certificate of title or the car loan account information.
4 min to read
What documents do you need to buy a car?
When you purchase a car from the dealership — whether new or used — there is specific paperwork you need to buy a car from a dealer, such as a driver's license, proof of auto insurance and a payment for your purchase.
Driver's license
The dealership wants proof that you can legally drive before selling you a vehicle. Make sure your license is valid and hasn't expired. Your license can also prove your identity and your residence when financing the car.
Proof of auto insurance
Almost every state requires that drivers have auto insurance. The dealership will ask for proof of your auto insurance policy. Contact your insurance company beforehand about adding the new vehicle to your policy. If you're a first-time car buyer, you should be able to purchase auto insurance for a new car quickly. You can give the insurance company the vehicle identification number (VIN) at the dealership, finalizing the coverage.
Payment for your purchase.
It's important to find out which payment forms the dealership accepts before you go in. Some might allow you to write a personal check for the down payment or the total amount. If you're planning to apply for an auto loan, ask about the documentation you'll need for the dealership's financing process, regardless of whether you decide to get the loan from a financial institution or through the dealer.
Is there documentation that could help me get a discount?
Potentially. Some auto manufacturers offer car discounts for recent college graduates, military personnel, veterans, first responders, and people who already own a vehicle from the dealership. Depending on the discount type, you may need to bring a diploma, transcript, military or veteran ID card, discharge papers, leave and earnings statement, or an ID badge. Eligibility requirements vary, so do your research before going into the dealership. Learn more about car insurance discounts for students.
How do I prepare to finance the vehicle?
Experts recommend getting preapproved for a car loan, even if you later decide to apply for a loan through the dealership. This way, you'll know your budget, and you can use the interest rate as leverage for the purchase. When applying for a loan, you'll typically need to provide recent pay stubs or similar proof of income, your credit report or permission to access it, and proof that your address is accurate with documentation like a utility bill or current insurance policy.
What should I bring if my credit score is low?
Having a lower credit score doesn't necessarily mean you won't qualify for an auto loan. If you're applying for a loan at a financial institution or through the dealership, bring a list of personal references who have agreed to vouch for you. These should be people who know you well but don't live with you. Include each person's full name, contact information, and employer. Also bring a recent pay stub so the lender knows what you can afford to pay.
Pro tip:
Check your credit history before and during your auto loan application and resolve outstanding issues that could be lowering your score. Make sure no one is pulling your credit information without your permission.
Which documents do I need for a trade-in?
When trading your old vehicle for a new one, you'll need to bring in additional paperwork. Besides the vehicle and the keys, have your current registration handy. For a vehicle you own, bring the certificate of title to demonstrate it's yours. Learn more about what you need to trade in your car.
How to insure the car you recently purchased
Online
Answer some easy questions and choose coverages.
Quote auto insurance online
Call us
A licensed representative will answer any questions you have.
Call 1-866-749-7436
Ask an agent
Need local advice? We'll connect you with a licensed independent agent near you.
Find an agent online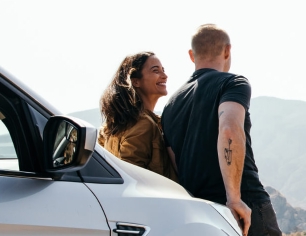 Quote car insurance online or give us a call