Car insurance for new drivers
New drivers need car insurance before they hit the road — most states require liability coverage by law for all drivers. You can get a policy, or if you live with another driver, they may add you to their policy. Car insurance for new drivers might be more expensive until you build up a driving history. If you avoid accidents and tickets, your premium may decrease over time.
3 min to read
Determine which coverages you need

Gather some personal information

Shopping for car insurance typically requires you to provide at least:

Your driving history: As a new driver, you may not have accidents or tickets to report, which should work to your advantage. Find out how accidents impact your car insurance, and how tickets can affect your rate.
Your car's make, model, year, and mileage: Your vehicle type, MSRP, age, safety features, and more can affect your insurance rate, especially if you get comprehensive or collision.
Your location: State laws will determine the minimum coverage you need. Plus, depending on your coverages, your location may affect your rate since certain areas are more prone to car theft, car vandalism, and other harm.

Once you're ready to purchase a policy, you may also need to provide:

Your car's VIN
Your driver's license number
Your Social Security number
Other personal information like your address

Compare rates

To find the best car insurance for a new driver, compare car insurance rates for the coverages you want. Remember to compare apples to apples — you'll need to select the same coverages, limits, and deductibles to compare different insurers truly. Then you can play around with how changing those amounts increases or decreases your car insurance premium before you choose the right policy for you.
Ready to get car insurance as a new driver?
Get your car insurance quote today using one of these methods:
Go online
Customize your policy's coverages, limits, and deductibles.
Quote car insurance online
Call us
Talk to a licensed representative who will guide you through every step of the process.
Call 1-866-749-7436
Ask an agent
Get expert advice from an independent agent near you.
Find an agent online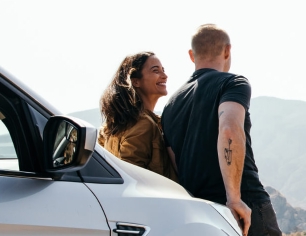 Quote car insurance online or give us a call