What are the best cars for new drivers?
The best cars for new drivers might include the 2023 Acura Integra, Honda Civic and Accord, Hyundai Sonata, Mazda 3, Toyota Corolla and Camry, and Subaru Legacy and Outback — these are all included in IIHS-HLDI's 2023 Top Safety Picks for small and midsize cars. New drivers should focus on cars that can help them drive as safely as possible — cars with collision avoidance, backup cameras, and automatic braking. Other important features might include reliability, good gas mileage, and a low sale price.
4 min to read
What is a good starter car?
There is no best first car for every driver. Instead of thinking about a specific make and model of car, focus on a few basic factors:
High safety ratings
Modern safety features included
Affordable
Reliable
Solid gas mileage
Good resale value
A driver's first car shouldn't break the bank. Look for a car that's affordable, safe to drive, and reliable enough to last for years with proper maintenance. These factors tend to go in hand with cars that have affordable insurance rates. Learn about car insurance for new drivers.
What are tips for first-time car buyers?
The best cars for new drivers should be easy to drive, so consider cars with automatic transmission and plenty of safety features. After all, even the best drivers can't account for other people on the road.
When you're shopping for your first car, look for these features:
Adaptive front airbags and side-impact curtain airbags: Side-impact airbags protect your head and body if you're hit from the side, while adaptive front airbags consider your position in the seat when deploying. These airbags can adjust the force necessary and are safer than traditional airbags.
Blind spot warning/detection: On busy roads and rush hour traffic, it can be hard to keep track of what's around you at any time. Blind spot detection monitors the sides and rear of your vehicle to alert you to the presence of other cars that you might not be able to see in your mirrors.
Rear-view camera: A rear-view camera isn't just a backup camera. It uses a wide field of view to give you a much better perspective on what's behind you, along with any vehicles approaching as you back out of a parking space.
Lane-keeping systems: You might not realize when you've left your lane. A lane-keeping system can send out an audible alert when you've drifted to the left or the right and warns you to correct your position.
Forward collision warning: The forward collision warning is one of the most effective new safety features in cars. It alerts you if the vehicle detects a potential impact. Some cars can even automatically engage the brakes to prevent a crash from occurring.
Consider the costs of car ownership
Gas mileage: When buying a new car, the expenses don't stop when you drive it off the lot. You need a vehicle with good fuel efficiency. The higher the gas mileage, the farther you can drive before refueling. Getting a hybrid car rather than a gas car is one way to achieve better gas mileage.
Maintenance: If a car requires a specialized mechanic to work on it, even simple maintenance might strain your finances. A car that can go to any mechanic for maintenance may be more cost-effective and better than a starter car.
Should my first car be new or used?
Choosing between a new or used car should depend on your budget and the availability of cars in your area. Reliable used cars are popular for new drivers as they get their bearings on the road and save up for a pricier ride. But if you can afford it, a new car with the latest safety features and the highest ratings might be worth it. A brand-new car might not be the best car for a new teen driver, though, as they're notoriously risky drivers (that's why car insurance for teens is costly).
Learn more about car insurance for first-time buyers and how age impacts car insurance cost.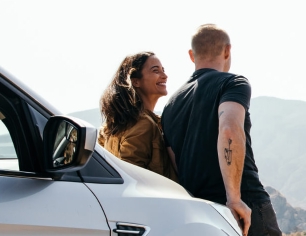 Quote car insurance online or give us a call