What's the best first car for teens?
According to IIHS-HLDI's ratings report on safe vehicles for teens, which also combines safety and reliability data from Consumer Reports and NHSTA, the best cars for teens include the Mazda 3 (2014–20, 2023), Toyota Prius (2014–2017), Subaru Outback (2015–18, 2022–23), Honda HR-V (2017 or newer), and Subaru Forester (2018 or newer). Keep in mind that buying a car for a teenager often comes down to finding a vehicle with the safety features they need at a price and insurance rate you can afford.
3 min to read
What's a good price for a teen's first car?
Car insurance for teens is typically more expensive — that's because teens tend to be riskier drivers. So a good price for a teen's first car is one that includes important safety features while staying in your budget. Use our car affordability calculator to determine how much you should spend on a car, and consider what can impact your car insurance rate, such as the car's make and model and MSRP.
Should you buy a brand new car for your teen?
If you ask your teen this question, the answer will likely be a resounding, "Yes!" But there's more to it than that — notably, safety and cost.
If you can comfortably afford to buy a new car for your teen, they'll get the benefits of the latest technology and safety ratings. There may be some bells and whistles they don't need, but many recent car technological advancements and systems are designed around safety. That may justify a new car purchase. You can set guidelines for choosing a car your teen wants within your determined price range. The other option is to buy a used car.
The new vs. used car dilemma for teens
The benefits and drawbacks of buying a new car vs. buying a used car for your teen are simple to explain but potentially difficult to choose between. A new car costs more upfront but requires less maintenance and fewer repairs. A used car can bring the vehicle cost down but may result in more repair costs sooner.
Even if a used car is cheaper to insure, it could end up being more costly for your teen in the long run. You may find the best used car for teenagers is a newer but used model with minimal mileage. Learn more about insurance when buying a used car.
The one thing all good first cars for teens have in common
Whether you buy your teen a new or used car, the final decision should come down to a balance between safety and budget. Newer models come with important features like advanced driver-assistance systems (ADAS), automatic braking, collision warning, rear-view camera, blind-spot alerts, and other helpful technology. Plus there are driving apps and monitoring devices designed to help keep your teen safe.
Learn about keeping teen drivers safe on the road, and consider which models have the best safety features for a price you're comfortable with.
Tips for buying the best first car for your teen
Buying a car for your teenager can be smooth, rewarding, and even bonding when you keep the following in mind:
Communication is key

The more clearly you communicate with your teen, the more you can diffuse any conflicts or tension. This is especially important when it comes to the gut-check of what you can afford and are willing to pay.

Combine safety and style

Your teen's vision of their first car is probably based on a specific make, model, or color. Meanwhile, you probably just want them to be safe. The good news is that new cars and recent-year used cars have great safety features, so you can balance the two when narrowing down your teen's options.

Coverage is crucial
How to get auto insurance for teens
New Progressive customers
The best teen car insurance means customized protection. Get a car insurance quote online or call 1-866-749-7436, and we'll ask the right questions to get your teenager properly covered.
Current Progressive customers
Log in to your policy or call 1-866-749-7436 to add your teenage driver.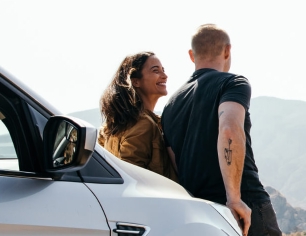 Quote car insurance online or give us a call