Do I need a driving monitoring app for my teen?
For newly licensed teenage drivers, getting behind the wheel can be exhilarating. However, you may feel less than enthusiastic as a parent or caregiver. There are steps you can take to minimize the worry, anxiety, and fear you're experiencing as a concerned parent. You can start by downloading a teenage driving monitoring app.
3 min to read
What are teenage driving monitoring devices?
Teenage driving monitoring devices and teen driving apps are tools programmed to summarize your teen's driving habits and provide alerts when necessary. With access to detailed information, including average driving speed and mileage, you can help establish safer driving habits now that could last a lifetime. Below is a list of common features of many teenage driving monitoring apps.
Setting speed limits. Adult and practiced drivers alike understand the importance of speed limits. The state establishes speed limits to help enhance safety by lessening the amount of risk to yourself and those around you. Speed limits help reduce the amount of time it would take to react to changes on the road. If you need to brake suddenly, following the speed limit will make it easier to stop the vehicle. Those with less driving experience may not fully comprehend the risks of exceeding the speed limit and could benefit from an app that monitors driving speed.
There are driving monitoring apps that allow you to set a speed limit for teenage drivers and notify you that your teen exceeds that speed.
Minimizing distractions. It's tempting for many to respond to a text, answer a phone call, or change playlists. However, distracted driving is anything diverting your attention from the road, which can have fatal consequences. The U.S. Department of Transportation reported that in 2019, more than 3,100 individuals died in distraction-affected accidents. Of that number, about 230 were 15 to 19 years old. Many of these apps provide a complete look at your teenage driver's safety, which includes the ability to see how they're driving.
You can tell if they use their phone while on the road or texting while driving. Some apps automatically set a "Do Not Disturb" mode when your vehicle reaches a certain speed. If your teenager disables this setting, the app will notify you immediately.
Establishing locations. Not knowing their teen driver's location can be a significant worry parents or caregivers feel when their teenager is behind the wheel. That's why many teenage driving monitoring apps offer GPS tracking for your teenage driver. Additionally, many of these location safety features have a silent alarm element, so if your teen feels unsafe, they can trigger an SOS signal.
How do I set up a driving monitoring app for my family?
After researching the various available apps, share your plans with your family members. Discuss your fears and worries when it comes to your teen's driving, and use this moment to establish safer habits for everyone else, too. Once your family is on board, it's time to integrate this tool into your daily lives. Some apps are free, some have features that require payment, and some offer a free trial before transitioning into a monthly plan.
You can also check with your insurance provider, as some organizations have their own driving monitoring apps. Our Snapshot® program rewards good drivers based on how they drive. Plus, our mobile app can reveal if your teen was driving distracted. Whichever app you decide makes sense for you and your teen, you can experience peace of mind knowing you're connected. Learn more about car insurance for teens and student discounts for car insurance.
Looking for auto insurance for your teen?
New Progressive customers
Customized protection is best for teen car insurance. Get a car insurance quote online or call 1-866-749-7436 and we'll ask the right questions to get your teenager properly covered.
Current Progressive customers
Log in to your policy or call 1-866-749-7436 to add your teenage driver.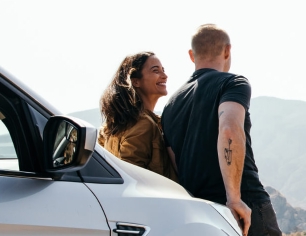 Quote car insurance online or give us a call