Do you need insurance to ship a car?
Generally, if you won't be driving it, you may not be required to carry your own car insurance to transport a vehicle by truck, ship, or rail. You may want to choose a car hauler with adequate insurance to cover any damages that occur to your car in the moving process. However, if there's an issue with your auto transport insurance, having comprehensive and collision on your auto policy could save you from responsibility for damage to your vehicle in transit.
5 min to read
Are there specific auto transport insurance requirements?
Auto transport companies may be legally required to carry insurance to cover damage while your vehicle is in transit. However, it's up to you to verify the car hauler's insurance coverage. You'll want to check that their coverage limits are high enough to replace your vehicle if it were destroyed or damaged during transport.
Auto transport insurance coverage requirements can vary by state, so it pays to ask for their insurance policy details. Verify that their insurance covers pickup, transport, and delivery. Some transporters only have coverage once your vehicle is on the truck. A car hauler's insurance policy could also have exclusions that would complicate coverage for your vehicle if it sustained any damage in transit.
When you drop your car off, a transport company representative will do a detailed inspection of the vehicle to document any scratches and dents. You'll agree on the car's condition. A representative will repeat this process at the destination. At both drop-off and pickup, request a copy of the inspection. Assuming there's no new damage, you'll be on your way. If your vehicle gets damaged, destroyed, or stolen during transport, file a claim with the transporter's insurer.
Pro tip:
If you own a cargo trailer and plan to use it to transport your vehicle, cargo trailer insurance can cover your trailer and the personal property inside.
Can you transport a car without insurance?
If you aren't going to be driving it at all, you may not be required to have an auto insurance policy for your car while it's in transit. Transporting a car without insurance likely doesn't make sense. You'll need insurance to drive it to a drop-off point, pick it up, and drive around town once you get to your destination. And if there's an issue with the transporter's insurance, your auto insurance might be able to act as a backup, depending on your policy.
If there's an issue with the car hauler's insurance and your policy can offer coverage, remember that you'll have to pay your car insurance deductible out of pocket. Your premium might increase after a claim.
What types of auto insurance coverage cover auto transport damage?
Comprehensive car insurance coverage may cover your vehicle if it sustains any damage during transportation due to fire, wind, hail, flood, theft, vandalism, falling objects, or animals. Auto collision coverage might come into play if the transporter driving your vehicle is involved in an accident. Every insurer is different, so check with yours to understand how coverage might work for transport-related claims.
Best practices when transporting a vehicle
When preparing to ship your car, some important things to do might include getting the transporter's motor carrier number and cleaning out your vehicle. When it comes to making sure your car is secure during shipping, follow these important steps.
Ask for proof of insurance
Any reputable auto transport company should be willing to show you their proof of insurance. Verify coverage levels and dates and ensure they can cover the cost of replacing your vehicle if it's totaled or stolen. Ask if there are any exclusions during pickup, loading, transit, and unloading. If they're hesitant to produce proof of insurance, consider that a red flag.
Check-in with your insurer
Your car insurance may be able to provide coverage if there are issues with the transporter's insurance. However, not all insurance policies cover your vehicle while it's in transit. Check with your insurer regarding coverage for auto transport.
Be there for drop-off and pickup
Just like renting a car, make sure you're there for the inspections at drop-off and pickup. You may even choose to take pictures and notes. If you find new damage after transport, the representative inspecting your car should document it thoroughly. You can start a claim through the transporter's insurance, which may not cover any damage you find after the final inspection.
Get everything in writing
Before the move, ensure you have documentation of your auto transport agreement, including insurance coverage and delivery information.
What if I hire someone to drive my vehicle?
If you prefer, you can hire someone to drive your vehicle to the destination. If the driver crashes your car, it will depend on the circumstances whether your insurance or the driver's policy will apply. You should check with your insurer to see what your policy might cover in this situation. If the driver doesn't have their own auto insurance policy, you might request that they get a non-owner car insurance policy for a minimum of liability coverage.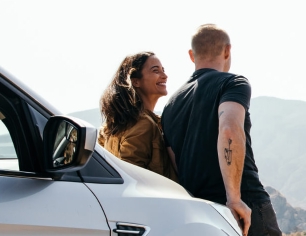 Quote car insurance online or give us a call