How to ship a car
Shipping a car isn't complicated, but it comes with costs and risks. Start by researching transport companies and getting cost estimates. Most car shipping companies charge by the mile and provide open or closed transport. Once you've found a company, you'll need to arrange for someone to be on either end of the delivery. Other things to consider include timing, insurance protection, and inspecting the car for damage before and after delivery.
4 min to read
What to know about shipping a car to another state
Shipping a car to another state may take longer than you think. You'll have to wait until the transport company has room in their schedule to pick up your vehicle. If you're shipping a car to another state, delivery may take several weeks from when the company picks up your vehicle. However, it may take less time, depending on how far you're shipping the car.
Schedules when shipping a car may also change. The transport company's timeline is an estimate and not a guarantee. Multiple factors can affect the time it takes to deliver your vehicle, including inclement weather and additional scheduled pickups and deliveries. Shipping prices may change. The initial quote the transport company gives you may not include service fees, insurance costs, or other charges that accrue during transport. The price you pay may be higher.
When shipping a car to another state, make sure you have alternate transportation. If you're shipping your only vehicle to another location or waiting for the new car you just bought to be delivered, you'll need another way to get around in the meantime. It's also important to have car insurance coverage to protect your vehicle while it ships. Most companies typically have insurance that covers damage that occurs while they are transporting your car, but it's up to you to check.
If there's a problem with the transport company's insurance, maintaining comprehensive car insurance and auto collision coverage on your vehicle may help protect you if your car is damaged during the shipping process. Learn more about insurance when shipping a car.
What is the cost of shipping a car?
According to UShip, the average cost to ship a car is $2.92/mile for distances of less than 200 miles and $0.78 per mile for distances of 1,000 miles or more as of July, 2022. However, car shipping costs vary based on multiple factors, including location, vehicle size, and transport method. It costs more to ship cars to more difficult places to access.
Shipping costs are determined in part by the size and weight of your vehicle. Larger and heavier vehicles cost more to ship. Also, open transports are less expensive than closed transports.
Getting your car ready for shipping
Unless you're shipping a brand-new car from the dealership, you'll need to prepare your vehicle for shipping to another state before the transport company arrives.
Remove your personal belongings from the car:Transport companies typically won't take possession of a vehicle with your things in it.
Clean it: Cleaning your car before the transport company picks it up will make it easier to assess the vehicle's condition. Take a moment to document any existing damage before you hand over the keys.
Document damage: Take photos and make notes of any existing damage, so you can make sure there's no additional damage when the car arrives at its destination.
Empty the gas tank: A full gas tank adds to the vehicle's weight, which will increase your shipping charges. Aim to have your tank one-quarter full when it ships.
How to ship your car
Research shipping companies
There are many vehicle car shipping companies to choose from, so do some research before choosing one. Check out online reviews, and compare the pricing and services from different companies.
Choose a transport method
Decide whether you will opt for an open or closed (secure) transportation method. A closed transport provides more protection for your vehicle, but it costs more.
Select a vehicle shipping company
Once you've done some research and decided on the type of transport you want, choose the company you want to use. They may ask for a copy of your driver's license, vehicle registration, vehicle title, and proof of insurance.
Choose a delivery location
You can have your car delivered to your home or another location to pick it up. Shipping to a large metropolitan area will likely cost less than shipping it to a small city or rural area.
Schedule the transport
Let the company know when you'd like to have your car delivered but remember that they probably won't be able to guarantee an exact date.
Contact the dealer or seller
If you recently bought a new car and want it shipped to you from a dealer or private seller, they will need to be available when the transport company arrives.
Pre-delivery inspection
When the transport company arrives, they will inspect the car to document existing damage. If applicable, ask the seller to help with this process.
Post-delivery inspection
You and the driver will inspect the vehicle when it arrives to ensure it's in the same condition as when the company picked it up. You'll also need to sign the bill of lading, which says you received the vehicle.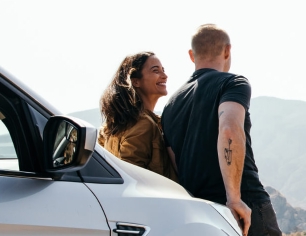 Quote car insurance online or give us a call