Do I have to change my car insurance when moving?
You may have to change car insurance companies when you move out of state if your current provider doesn't sell insurance in the state where you're moving. If you stay in the same state, you'll not have to change insurers. If you're moving out of state, check with your car insurance provider to ensure they offer coverage in your new state.
3 min to read
How does moving impact my insurance rate?
Your move will impact your car insurance rate. Rates are partially based on an area's claims history, so fewer thefts, break-ins, and accidents in your new area can result in lower rates and vice versa. Your insurer may also use your annual mileage and commuting distance to help determine your rate. If your new address shortens your commute, you might see a lower rate, but if you're driving more, you may see a rate increase.
Learn more about other car insurance cost factors.
Will my car insurance go up if I move out of state?
Your car insurance could go up or down depending on various factors, including the claims history of your new area. When you move out of state, you'll need a new car insurance policy, even if you can stay with the same insurer. Your insurance company will cancel your old policy because every state has different coverage requirements and regulations. At Progressive, we have a team of representatives dedicated to handling your move quickly and seamlessly.
How do I update insurance when moving out of state?
Because car insurance requirements vary from state to state, you'll need to get a new insurance policy if you move out of your current state.
Here are the steps to follow:
1. Contact your current insurance agent or company
Verify whether your current company offers auto insurance in your new home state. If they don't, ask your friends what insurance company they recommend for your new area. It's best to let your insurance company know when you plan to relocate. Once you know your moving date and new address, notify your insurer immediately. If you need to move suddenly, that's OK — communicate that as soon as possible so you'll have the right coverage.
2. Learn about the insurance requirements in your new state
Because insurance laws and requirements vary by state, your new policy may include additional coverages you didn't have on your old one. You might take this time to reevaluate your coverage selections and adjust based on your needs. Depending on the state, you may be required to carry:
3. Get a quote
If your current insurance company doesn't offer coverage in your new state, you'll want to contact a few other companies and get quotes for a new policy. Learn more about how to shop for car insurance.
4. Buy a new auto insurance policy
After comparing prices and coverages, choose your new car insurance company and purchase a policy.
5. Cancel your old policy
Once you've purchased a new policy, you can contact your insurance company and cancel your old policy. If you're staying with your current insurer, they should automatically cancel your old policy once they issue your new one.
How long do I have to change my car insurance after moving?
The Department of Motor Vehicles website for your new state will contain all the legal requirements for car insurance and vehicle registration. Depending on the state, you could have 30 to 90 days to switch your insurance, driver's license, and registration. You could face a fine for failing to make the switch within the deadline.
What about moving in-state?
If you stay in the same state, you don't need to get a new policy. Notify your car insurer of your new address. If you have a Progressive policy, you can update your address online or over the phone.
Like moving out of state, an in-state move will affect your car insurance rate, although the change may be smaller than an out-of-state move.
Why did my car insurance go up when I moved?
Your location, where you park your car each day, is a key factor in determining your car insurance coverage price. Your insurance rate can increase for many reasons, including moving to a new address.
Can I have car insurance in two different states?
No. A car insurance policy originates in the state where you reside. Buying two auto insurance policies for the same vehicle may result in the company canceling one of them. However, you can have two policies to insure two separate vehicles garaged in different states.
What should I do if my move is temporary?
Even if you intend that your move will be temporary, you must notify your insurance company. Depending on the laws in your state, you may be able to keep the coverage you had on your old policy.
A note about address verification
At Progressive, the address where you keep your vehicle(s) may need to be verified to ensure the policy is accurately rated and prevent insurance fraud. You may be asked to submit proof, such as a recent paystub, license, W-2, and/or utility bills to confirm your garaging ZIP code. You can resolve any discrepancy by contacting us.
How to update your address if you're moving
Current Progressive customers
Log in to your policy or call us at 1-866-749-7436.
New Progressive customers
If you're moving and want a new policy with us, get a car insurance quote online or call 1-866-749-7436 and share your new address.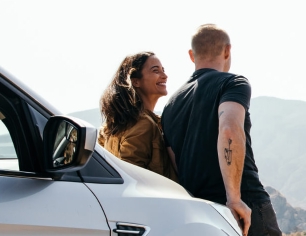 Quote car insurance online or give us a call