How does renting a car work?
When renting a car, you pay a fee in exchange for the use of a car for a certain number of days, then return the car to the company at the end of the rental period. It's a simple process, but you must meet the company's age requirements and have a valid driver's license before making a reservation.
4 min to read
What do you need to rent a car?
You must meet specific requirements to make a reservation, including:
Holding a valid driver's license: You can't rent a car with a learner's permit, even if a licensed driver is in the vehicle with you.
Having a credit/debit card: Most car rental companies only accept payment in the form of a credit or debit card. If you pay with a debit card, there may be additional requirements.
Being over the age of 21: You must be at least 21 years old to rent a car in the United States. If you're under 25, the rental car company may restrict the types of vehicles you can rent and charge a fee.
How to rent a car
Research available rentals & choose a location
Before booking a rental, find out what cars are available and price ranges. You'll typically pay more for larger and luxury vehicles. However, prices and vehicle selection vary by company, so comparing quotes from several companies is a good idea. You can get quotes directly from the rental car company or travel sites that arrange car rentals.
Car rental companies have multiple places to pick up and drop off vehicles. Find one that's convenient for you.
Make a reservation
Scheduling your reservation in advance helps ensure you get a car that meets your needs. If you're in a pinch, you may be able to get a rental without a prior reservation, but vehicle selection may be limited. Learn more about renting exotic and luxury cars.
Have your payment method ready
You typically don't need to make a payment to schedule your reservation. However, when you pick up your rental, the company may put a hold on your credit or debit card in the amount of the rental fee plus a security deposit. The rental company will charge your card when you return the vehicle.
Review the contract
When you pick up your vehicle, review the terms and conditions of the rental agreement. Ask an agent if you have questions.
Inspect the vehicle
Before you leave the parking lot, inspect the interior and exterior of the car with an agent. If you notice any damage, make sure to document it before driving off. When you return the car, you'll be responsible for any damage that wasn't documented when you picked it up.
Return the vehicle
If you don't return the vehicle on time, the rental company may charge an extra fee. Many companies also require you to return it with a full tank of gas, and the rental company will expect it to be in the same condition as when you took possession of it.
Tips for renting a car
Verify mileage allocation
Many rental car contracts have unlimited mileage, but some cap the number of miles you can drive daily. If you exceed the limit, they charge you a per-mile fee.
Take advantage of discounts
You may be able to qualify for a discount on your rental if you belong to specific membership organizations, such as Costco, AAA, AARP, and more. If you need to schedule a hotel stay or flight in addition to your rental, you may be able to get a discount by making the bookings together.
Check out airport fees
Rental car companies often charge extra when you pick up or drop off a vehicle at an airport. Find out if your reservation will include a surcharge.
Make sure you're covered
In most cases, your auto insurance policy covers you while driving a rental in the US. However, if you don't have auto insurance, you'll need to purchase rental car insurance from the agency when you pick up your car. If your auto policy doesn't include auto collision coverage, you may also want to purchase a collision damage waiver, so you're not on the hook for damage if you're in a collision.
Rental car reimbursement coverage can help protect you if you need to rent a car after an accident or other covered incident. If your auto insurance policy includes this type of coverage, your insurer will cover the cost of your rental car up to a certain dollar amount per day for a specific number of days, potentially saving you hundreds of dollars.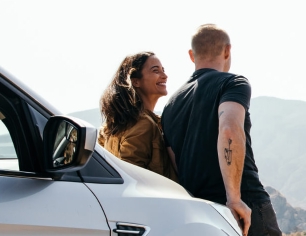 Quote car insurance online or give us a call