What is collision damage coverage for rental cars?
When you rent a car, the rental company may offer you collision coverage in the form of a loss damage waiver, also known as a collision damage waiver, at an additional cost. These waivers don't technically offer insurance coverage, but rather state that you're not on the hook for collision damage to the vehicle. The rental company may also offer a waiver for theft that can be bundled with collision damage waivers. If you have collision coverage on your auto insurance policy, then you may already be covered for collision damage to your rental car.
2 min to read
Do I need a damage waiver for my rental car?
You should consider a collision damage waiver if you don't have collision coverage on your car insurance policy. If you already have collision coverage, a collision damage waiver may still make sense if:
Your policy excludes coverage for rental vehicles
You have a high collision deductible (many collision waivers don't have a deductible)
You plan to rent a car in a country where your insurer doesn't provide coverage
If you have collision coverage and none of these situations apply, it may not be worthwhile to pay extra for a loss damage waiver. Your credit card company might also offer rental car insurance if you use it to pay for the rental vehicle. This varies from company to company, and there are specific rules and restrictions to consider.
Most auto insurers extend their collision coverage to any rental cars you drive, as long as they're driven for personal use.
What do collision damage waivers cover?
Collision damage waivers only cover damage to the rental car. They don't cover liability-related expenses. Additionally, collision damage waivers may not cover damage resulting from risky behaviors, such as taking the rental car off-road or speeding. Some waivers may also exclude coverage for damage to specific parts of the rental car, including the windshield or tires.
How do I file a claim for a collision in a rental car?
After an accident, you should contact the rental car company and inform them of the accident. Rental car companies have different procedures on next steps, but it typically involves filling out a company-specific incident report. If you bought a collision damage waiver, then you typically won't have to pay for any of the damage unless the waiver includes a deductible.
If you plan to use your own car insurance, you'll need to file a collision claim with your insurer. They'll then work with the rental car company to ensure everything gets handled properly.
Learn more about what to do after an accident involving a rental car.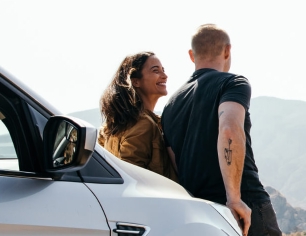 Quote car insurance online or give us a call